Detoxing your body is a construct of alternative medicine practitioners and diet gurus, but the concept has no basis in Western science or medicine. Your liver and kidneys detox your body naturally. The idea of avoiding empty calories and overly processed foods has merit. A raw food diet will not forcibly remove toxins from your body any faster than the usual 24 to 72 hours it takes for natural digestion and elimination, but eating fresh fruits and vegetables, whole grains, nuts and seeds will nourish and support your body while it detoxes itself.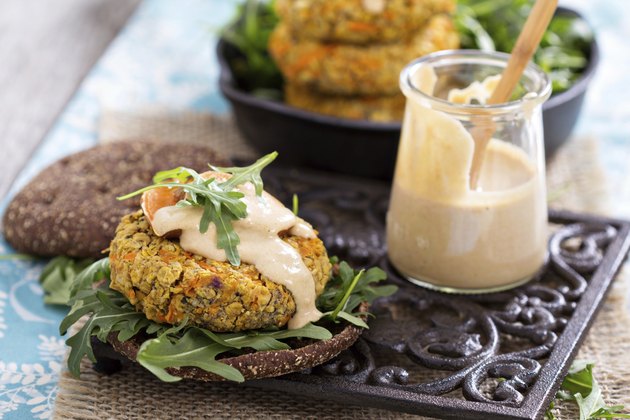 Raw Food Facts
The definition of raw foods varies between practitioners, but the most generally accepted guidelines for a raw foods diet dictate that you should not eat any processed foods, or any food cooked over 118 degrees F. Raw food adherents believe that human beings are evolutionarily designed to consume only raw food in its natural state, which contains enzymes and nutrients that are destroyed by cooking. Eating a raw food will not speed up the process at which your body digests food and eliminates wastes, but it will keep you from adding any new toxins to your system.
Digestion
Once your food has been chewed and swallowed, it sits in your stomach for three to four hours, in a chemical bath of digestive fluids including hydrochloric acid. This process takes three to four hours. Your liver and gallbladder help break down fats, and as the food moves from your stomach, your pancreas breaks down the carbohydrates and proteins. These processes can take another three to four hours. The materials that your body cannot use are sent to your large intestine, which finishes the digestion process by removing water, which takes 10 to 12 hours. It takes approximately 24 to 30 hours after the last food you took in to be completely processed, but it may take several days for it all to be eliminated.
Benefits
Common sense dictates that giving your body a rest from over-processed, chemical-laden foods that are high in sugar, sodium and trans-fats and low in actual nutrition is good for you. Also, most fruits and many vegetables have a high water content, which help re-hydrate your body. Experts like those at Harvard Medical School and MayoClinic.com agree that the best way to keep your body from being overwhelmed by toxins is not to put any into it in the first place. If you can't avoid processed foods and alcohol, give your body a few days of rest to process and eliminate the troublesome substances.
Warning
Never consume unpasteurized dairy products or eat raw organic fruits and vegetables without washing them. Dairy products that have not been pasteurized carry the risk of E.coli, listeria and salmonella which can lead to serious illness and even death. Seafood should not be eaten raw unless it has been purchased from a reputable seller and is sushi grade. Wash your organic fruits and vegetables to endure that they do not carry salmonella.