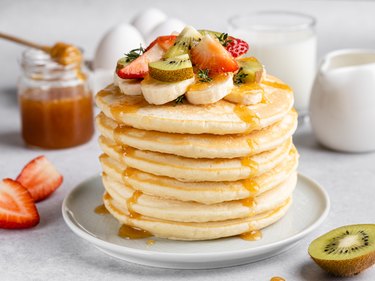 Pancakes are a classic breakfast food, but you might be curious about the number of calories in one pancake, with or without syrup.
While every pancake recipe will differ, the primary ingredient in standard pancakes is flour. So, carbohydrates make up the majority of the calories contained in pancakes. The eggs, buttermilk and oil contribute an insignificant amount of fat and protein.
Find out all about pancake nutrition below, and remember that the addition of any ingredients, such as chocolate chips, fresh fruit, butter and syrup, may significantly affect the pancake's nutritional content.
Pancake Nutritional Information
One medium plain pancake (50 grams) has the following nutritional profile, per the USDA:
139 calories
5.9 g fat
326 mg sodium
18 g carbohydrates
3.7 g protein
Drizzle on a teaspoon of maple syrup, and you'll get more calories and sugar. There are 179 calories in one pancake with syrup.
Original Pancake House Nutritional Information
Since 1953, The Original Pancake House has used authentic national and international pancake recipes as the focal items on the menu. You can order several different varieties of pancakes at this restaurant.
The standard pancake at the Original Pancake House, however, features pancake batter made with sourdough yeast, flour and sugar fried in a skillet. There are also plenty of toppings to choose from, including pure maple syrup, diced bananas, fresh blueberries, toasted coconut and chopped pecans. These will, of course, alter the nutritional profile of each pancake.
If you're eating out at the Pancake House, you may be curious how those hot flapjacks compare to the homemade kind. The following Original Pancake House nutritional facts are for one 4-inch pancake without any toppings:
161 calories
4 g fat
310 mg sodium
27 g carbohydrates
2 g protein
Cracker Barrel Pancakes Nutritional Information
The first Cracker Barrel Old Country Store opened in 1969 in Lebanon, Tennessee, and it served "quality food at good prices," according to the Cracker Barrel website. The original Cracker Barrel Store gained popularity, with 19 stores opened by 1977. Today, there are more than 664 stores in 49 states, serving familiar comfort food favorites.
The breakfast pancakes are light and fluffy and served with a number of toppings. Knowing the nutrition information of Cracker Barrel pancakes can help you balance your calorie intake for weight control.
630 calories
16 g fat
2640 mg sodium
111 g carbohydrates
9 g protein
Pancake Toppings: Maple Syrup
There's no wrong way to dress up your pancake, but syrup is probably the most popular accouterment at breakfast time. When you're trying to lose weight, keep the calories and general nutritional content of these toppings in mind.
The following is the nutritional information for two tablespoons of 100 percent pure maple syrup, per the USDA:
110 calories
0 g fat
0 mg sodium
26 g carbohydrates
0 g protein
Tip
When in doubt, choose fresh fruit, which is free of added sugars and boasts healthy vitamins and minerals.