Originally, vitamin B was thought to be a single compound found in liver, rice and yeast extracts. Further research revealed that the these extracts actually contained multiple B vitamins that were then named and assigned a number. A B complex capsule contains the following vitamins: folic acid; thiamine, B1; riboflavin, B2; niacin, B3; panthothenic acid, B5; pyridoxine, B6; cyanocobalamin, B12; and biotin.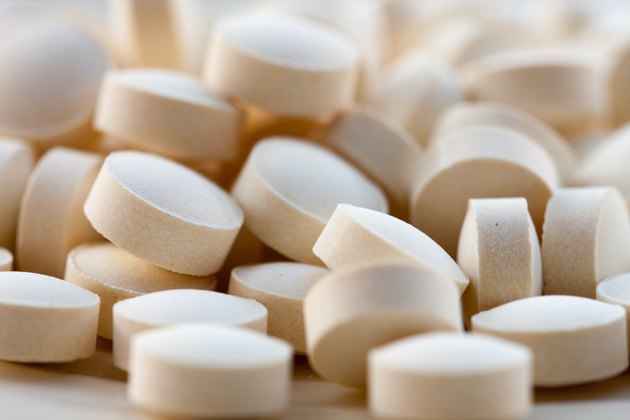 Properties of B Complex
Each of the B vitamins that make up a B complex supplement has its own structure and function. People need the B vitamins in different amounts, depending on a variety of factors, including each person's level of deficiency. Many B complex supplements contain the recommended daily allowance amounts of each B vitamin, therefore not taking into account the specialized needs of each individual who not need that dose of one or more of the vitamins available in a B complex supplement.
Benefits of B Complex
Supplementing with a B complex may help to improve mood and calm anxiety and has the potential to increase metabolism, which can help with weight loss. Several other benefits of B complex include helping to maintain skin and muscle tissue and boosting the immune system.
Specific Benefits of B vitamins
The Centers for Disease Control and Prevention, the National Institutes of Health and other U.S. health agencies recommend a folic acid supplement for women prior to becoming pregnant and throughout pregnancy because of its link with preventing neural tube defects in newborns. Vitamins B1 and B2 aid in energy production, B3 can help with a healthy digestive system, B5 and B12 play a role in normal growth and development, B6 helps with the breakdown of protein and of maintaining healthy red blood cells and biotin helps with the breakdown of protein and carbohydrates. Many of the vitamins work with each other to perform one or more of their functions.
Other Considerations
Although a B complex supplement may contain more of one particular B vitamin than you may need, B vitamins are water soluble, meaning they do not build up and are not stored in the system. Rather, the body excretes any excess, and they are considered safe to take. Let your physician know about any kind of supplement you are taking or are thinking about taking to ensure there are no contraindications with prescriptions or over-the-counter medications you take.