When the convenience of toaster-oven cooking meets the mild flavor and nutritional benefits of salmon, you've got a heart-healthy meal on the table in under 20 minutes. Though frequently associated with bread and bagels, this convenient counter-top appliance can handle almost every job of a full-size oven, except on a smaller scale. Broiling salmon in the toaster oven saves energy since these miniature ovens use a fraction of the energy compared to full-size ovens. Serve up a savory salmon dinner without heating up the whole kitchen in the process.
Step 1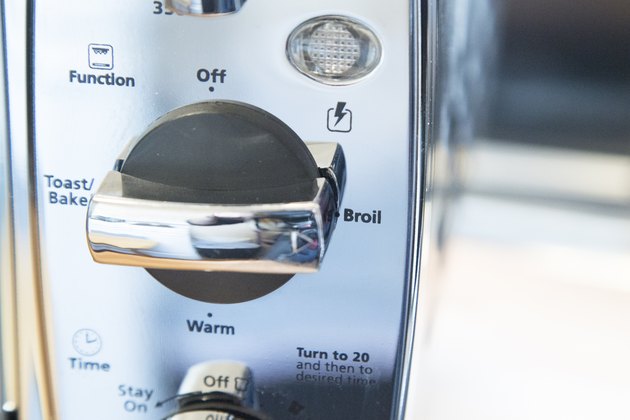 Set your toaster oven to broil. If it has different broiler settings, choose high.
Step 2
Season your salmon filets using any seasonings you like. To keep it simple, sprinkle with sea salt and freshly ground pepper. You can also marinade your salmon filets for 15 to 20 minutes. Popular marinades include ingredients like soy sauce, ginger, honey, scallions and garlic.
Step 3
Line your broiler pan with aluminum foil to make cleanup quick and easy. Brush or spray the pan with a thin coat of cooking oil to keep the salmon fillets from sticking.
Step 4
Place the filets on the broiler pan, skin side down unless your filets are skinless. Follow the directions for your toaster oven regarding placement of the pan for broiling. In general, broiling requires the food be placed within a few inches of the heating element.
Step 5
Broil the salmon in your preheated toaster oven for 6 to 8 minutes on each side, or until it is completely opaque and flakes easily with a fork. Thicker filets may require a few more minutes.
Things You'll Need
Salmon filets, wild caught if possible

Seasonings or marinade (Optional)

Aluminum foil
Tip
Choose wild caught salmon if possible. Wild caught salmon eat a natural diet, are higher in protein and lower in pesticides and toxins than farm-raised salmon.