Jumping rope is effective for burning calories and improving cardiovascular endurance. The amount that you should jump rope per day will depend on your goals and fitness level. An average person simply trying to get fit may only need to jump 10 minutes a day. On the other hand, an athlete trying to improve endurance and cardiovascular performance may need to jump rope for more than 30 minutes a day.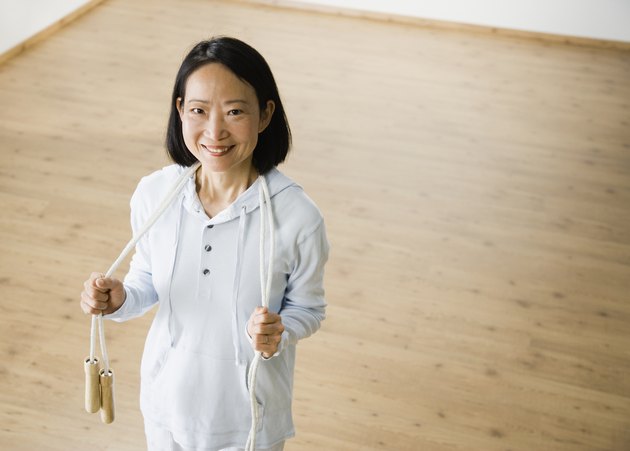 Fitness Level
Your level of fitness will determine how much you are able to jump rope a day. In order to prevent any overuse injuries such as shin splints or achilles tendonitis, you should only jump for a maximum period of time. A beginner who is just beginning to jump rope should only jump at most 10 minutes a day. An intermediate person who has jumped fairly consistently over the past six months can jump up to 30 minutes a day. An advanced-level person or an athlete does not have a limit as their body will be used to high-impact tasks.
Calorie Goals
How much you jump will also depend on how many calories you want to burn. If you want to burn only 100 or 200 calories a day, then you should jump at a comfortably hard pace for 10 minutes. If you wish to burn up to 350 calories per day, then jump rope at a challenging pace for 20 minutes. If you want to burn a large amount of calories, more than 500, then jump at a fast pace for at least 40 minutes. Performing an hour of jumping at a challenging pace will burn up to 750 calories. However, jumping for that long is very difficult and should only be attempted by well-seasoned athletes.
Cardiovascular Goals
Jumping rope is an aerobic activity and will improve cardiovascular performance as well as endurance. Aerobic exercises have little or no rest alloted during the activity. To improve your cardiovascular performance and efficiency, you should perform short bursts of high-intensity jumping as well as long steady jumping. The short bursts will require more oxygen and therefore increase the amount of oxygen you can take in during a single breath, also called VO2 max. On the other hand, performing long steady jumping will improve how efficiently your body delivers oxygen to your muscles.
Endurance/Power Goals
Jumping rope can build both endurance and power. To focus on increasing endurance, you should jump for long periods of time at a steady pace. You should jump rope for at least 20 minutes a day, unless you are a beginner, in that case 10 minutes of jumping per day will suffice. For power, jump rope as fast as you can, in short bursts that last only 30 seconds to a minute. Rest for one to two minutes in between intervals. If you are a beginner, do this for only five minutes. If you are intermediate, do it for at most 15 minutes. Athletes or advanced persons should do this exercise for at most 30 minutes.