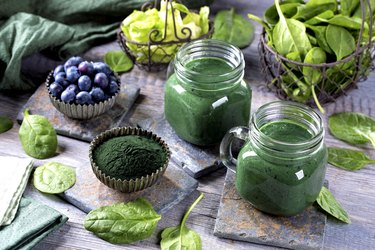 Liquid-only diets are aggressive weight-loss plans appropriate for when you have a lot of weight to lose and haven't had success using traditional weight-loss strategies. For a limited period of time, you get all of your calories in the form of shakes, soups and other liquid-based meals.
The very-low-calorie content of liquid-only diets causes rapid, sustained weight loss. But don't confuse liquid programs with fad diets. ​Liquid-only programs require medical supervision​ and are clinically supported for treating obesity.
Tip
By sticking to a liquid-only diet that supplies between 800 and 1,200 calories a day, you may be able to lose between 2 and 4 pounds a week​.​ Remember that liquid-only diet programs require medical supervision.
Weight Loss: Liquid-Only Diets
Liquid meal plans provide 800 to 1,200 calories per day, on average, which promotes rapid weight loss. These diets can cause a weight loss of 2 to 4 pounds a week, according to a clinical review published in the September 2014 edition of the journal ​Nutrition Bulletin​.
Liquid-only diets have varying results, according to a review in the December 2015 issue of ​Eat Behavior​. Meal replacement shakes have been found to be effective at creating weight loss, particularly in populations struggling to lose weight. The parameters of the diet were so strict, though, that very few subjects were able to follow it precisely. So while there may be weight-loss results when the diet is followed correctly, the real difficulty with this route is sticking to it properly.
A study in the April 2015 issue of ​Endocrine​ followed women with obesity on a 700-calorie liquid diet. It found that the subjects experienced on average a 6.7 percent weight loss with an increase in lean mass. The metabolic functions improved and there were no adverse side effects. One of the leading full-liquid diet plans claims that the average participant loses 30 pounds in 26 weeks.
Specially Formulated Meals
Rapid weight loss is possible on a liquid meal replacement program, due to the carefully formulated liquid meals. Each product is low in fat and calories, with enough protein to support your lean muscle mass and moderate carbohydrates to supply energy.
For example, a commonly used program offers shakes, soups and other liquid-based meals that contain roughly 160 to 170 calories each, when prepared. The products have 14 grams of protein, 3 to 5 grams of fat and 18 to 21 grams of carbohydrate. Because you can't replicate this nutrient breakdown with store-bought shakes, you must visit a weight-loss clinic and enroll in its liquid-only program.
Expectations for Liquid-Only Diets
Positive change happens quickly when you follow a liquid-only diet, as directed. Most liquid meal replacement programs are followed in phases. Typically, the first phase is the most aggressive, as it is the phase where you replace all your meals with liquid-only products.
At the many clinics, Phase 1 lasts from one to 12 weeks. Expect to attend weekly nutrition education classes while a clinician monitors your health and progress. During Phase 2, a transition phase that lasts six weeks, you eat one self-prepared meal — typically dinner — and continue replacing the rest of your meals with liquids.
A key part of most liquid meal plans is the long-term maintenance phase where your clinic provides access to continued support to help you keep the weight off over time. Keep in mind that each clinic may tailor its program slightly differently.
In a study in the January 2019 issue of ​Obesity​, liquid-only diets were compared to food-based diets. The study found that the liquid-based meal plans were more effective at creating weight loss than the food-based plans. So while the weight loss is mainly attributed to the low caloric intake, research shows that the liquid diet is more effective than food-based diets focused on limiting calories.
While this diet has similarities to other low-calorie diets, the plans are usually more intense, and therefore require supervision of a clinic. You should not start this diet without the intervention of trained nutritionist. If the clinics decide that you aren't an ideal patient for this treatment plan, you absolutely should not do this diet on your own.
As noted in the ​Endocrine​ study, the diet doesn't adversely affect your liver. In fact, when appropriately followed, with clinical observation, there are few adverse reactions. A study in the July 2018 issue of ​American Diabetes Association ​noted the positive impact on glycemic levels for patients with diabetes and those who have pre-diabetes.
Keeping It Off After Dieting
Most liquid-only programs gradually transition you to self-made meals. During the program, you learn how to portion foods and meals properly to prevent overrating once you return to solid foods.
You also learn how to make healthy food choices and how to build nutrient-packed meals using whole foods. Without learning these crucial tools to keep the weight off, you risk regaining what you lost and undoing all of the hard work. You'll learn how to make sensible changes and how to have your favorite foods — such as birthday cake or pizza — in moderation, as well as how to make healthier versions of these foods.