While it's always best to get your nutrients from food, vitamin supplements, taken under the supervision of a doctor, can fill in any gaps. B-complex vitamin supplements and calcium, zinc and magnesium supplements each have several health benefits that make them worthwhile additions to your routine. While none of these minerals has nutrient interactions that reduce the activity of B-complex vitamins in your body, two of them can interact with each other. Check with your doctor before combining any dietary supplement.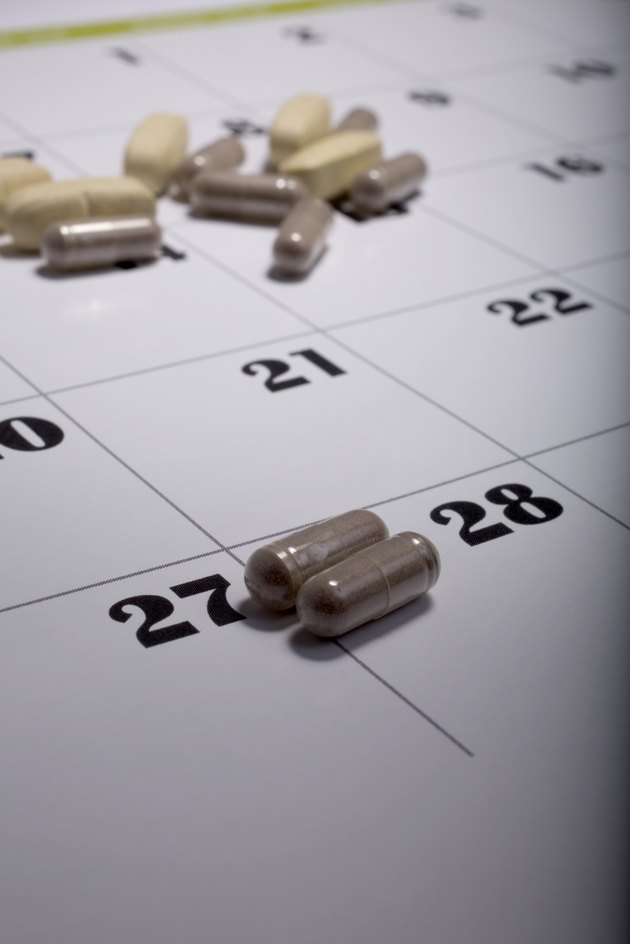 Potential Interactions
The minerals calcium, magnesium and zinc do not have known interactions that reduce the absorption or negatively impact the activity of B-complex vitamins, according to the Linus Pauling Institute. In fact, getting enough zinc might improve help you absorb folate -- vitamin B-9 -- because you rely on a zinc-dependent enzyme for folate absorption.
High doses of zinc, however, might reduce your ability to absorb magnesium, explains the Linus Pauling Institute. Make sure you talk to your doctor before taking these supplements to ensure you're getting the correct dosages.
Benefits for Energy Production
Magnesium, calcium and B-complex vitamins all play a role in helping your cells make and access energy. Calcium activates a protein, called calmodulin, involved in energy production in your muscle cells. Along with the B-complex family of vitamins, magnesium also helps you metabolize nutrients so that you can get energy from the foods you eat. Magnesium makes up part of MgATP, a chemical that serves as your cells' primary source of energy.
Other Potential Benefits
B-complex vitamins have other functions in common with magnesium, zinc and calcium. For example, all three minerals play a role in nerve transmission, allowing for communication among nerve cells, as well as between nerves and muscles. Vitamins B-1, B-3 and B-12 also support nerve function.
Vitamin B-12 and magnesium both help you make genetic information, like DNA -- a crucial process for cell growth. Vitamin B-6 plays a part in producing insulin, a hormone responsible for regulating blood sugar levels, while maintaining healthy magnesium levels may help you respond properly to insulin levels.
Supplement Safety
Make sure you talk to your doctor before taking dietary supplements, especially if you're combining more than one supplement in your routine. While most B-complex vitamins don't typically cause serious side effects, some of the individual B vitamins can have negative effects. For example, niacin can cause skin flushing, and excessively high doses of B-6 could damage your nerves. Too many magnesium supplements can lower blood pressure, while excess calcium can cause digestive upset or loss of appetite. Excess zinc depletes your body's copper levels, resulting in deficiency. Your doctor can recommend dosages that are less likely to cause side effects.