Whether you are looking to lose weight, boost your cardiovascular health or build muscle, exercise is indispensable. However, for exercise to be truly effective it needs to be an activity you enjoy and one that you can make a permanent part of your lifestyle. If you like to walk or jog, then stepping up your pace and running every day is a great way to get fit and feel good.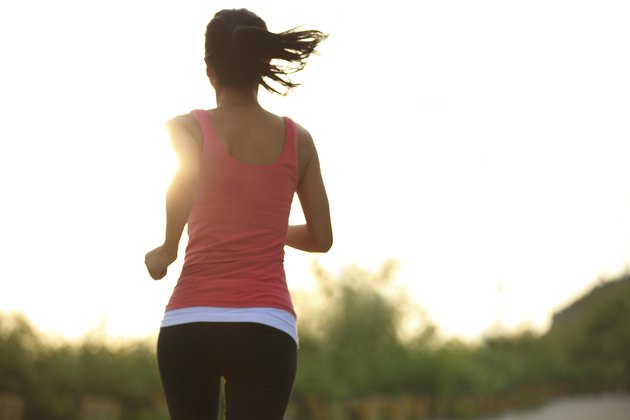 Fitness for Everyone
Running is an exercise almost anyone can do, and it's a great way to lose weight. You can build up a running regime regardless of your current weight or fitness level and start burning calories and building fitness immediately. "The Complete Guide to Running" recommends alternating walking and jogging to start out, then build up to continuous running. As you get fitter, it becomes easier to run further and faster.
Lose Fat
Even if you are a healthy weight, you may be carrying some extra body fat. Running raises your core body temperature and prompts your body to start shedding its layer of fat. The more consistently you exercise, the more fat your body will burn and the more lean muscle you build. Running every day will help you get leaner over time, even if your body weight remains the same.
Cardio Fitness
A daily run develops a strong heart and lungs, and can improve your breathing technique. Professional track and field athlete Perry Fields notes that most people take shallow breaths, a practice which only uses part of your lung capacity. Running forces you to breathe deeply, exercising your lungs and boosting your heart rate. When you run every day, your body quickly adapts and begins to use oxygen more efficiently, which can help lower your resting heart rate.
Staying Motivated
Running has many long-term benefits and it also supplies motivation in the form of feel-good chemicals called endorphins. Cardio exercises such as running cause your brain to release endorphins, lifting your mood and alleviating pain and stress. Endorphins are responsible for the phenomenon known as "runner's high" where you feel energetic or even euphoric when you finish a tough workout. As a result, instead of experiencing fatigue after a run, you feel energized, which rewards your effort and motivates you to train again the next day.