Although ground bison isn't as common as beef, pork or other meats, it is a rich source of protein. Because of the rich protein content and lack of carbohydrates, ground bison can be a good substitute for ground beef or other high-protein meats you usually consume. Ground bison also offers other beneficial nutrients, so making room for this game meat in your diet can be a good choice.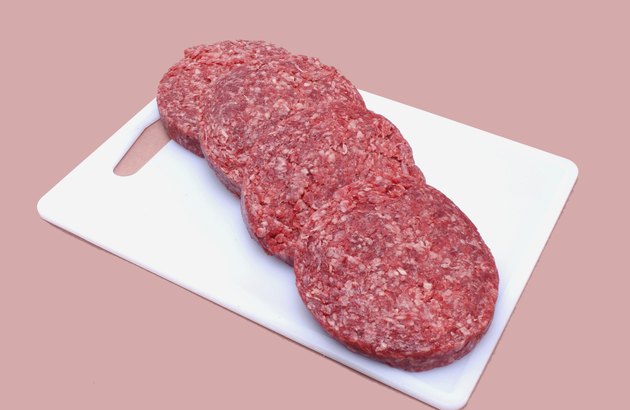 Protein in Ground Bison
Ground bison, as with other meats, is a rich source of protein. A 3 oz. serving of cooked ground bison provides 22 g of protein. This amount comprises nearly four times what an egg provides and is 1 g more protein than 3 oz. of cooked ground beef provides. Ground bison is also more protein-dense than both foods, as protein comprises 57 percent of the calories in ground bison compared to 34 percent in eggs and 39 percent in ground beef.
Protein Functions
Protein is essential for proper health, so eating protein-rich foods such as ground bison can be beneficial. Protein provides the structure for your muscles and other body tissues, and inadequate protein intake can lead to a weak immune and cardiorespiratory system, decreased muscle mass and stunted growth. Additionally, research from the May 2008 edition of "The American Journal of Clinical Nutrition" suggests that protein can be highly beneficial for dieting, as it promotes increased satiety and calorie-burning as compared to other nutrients.
Protein Requirements
Because of the importance of protein, the Institute of Medicine recommends consuming at least 0.8 g of protein per kg of bodyweight each day. The recommendation varies by weight because if you have more body mass, it will take more protein to maintain your tissues. If you weigh 150 lbs, you'd need to consume 54 g of protein daily, while a 200-lb. person would need to take in about 73 g. To find your weight in kilograms, divide your weight in pounds by 2.2.
Other Nutritional Characteristics
Ground bison's protein content isn't the only nutritional benefit this meat offers. Ground bison is lower in fat than other meats, with 7 g per 3 oz. serving; this is half the amount in 3 oz. of ground beef. Ground bison is also a good source of zinc, potassium, choline and magnesium. Ground bison can also be used in low-carbohydrate diets, as it contains no carbohydrates.