While vitamin C supplements for kids are generally not harmful, parents should monitor their children's overall vitamin C intake to ensure they do not get too much. If you have specific questions or concerns about your child's vitamin C intake, contact your doctor. Use the nutrition labels on the foods or an online nutritional database like MyPlate to determine the specific amount of vitamin C in each food.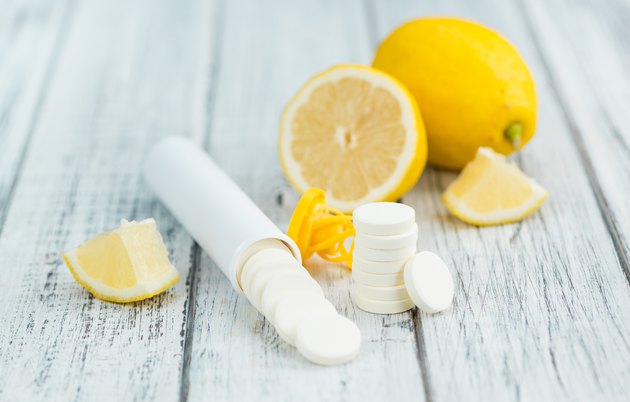 Tip
Vitamin C supplements are generally safe for children when taken in age-based recommended amounts.
Vitamin C Dosage for Kids
The recommended vitamin C dosage for kids is 15 mg for children between the ages of 1 and 3, 25 mg for children between the ages of 4 and 8, 45 mg for children between the ages of 9 and 13 and 75 mg for teenagers between 14 and 18 years old. Children who consistently fail to get this amount through their diet may benefit from vitamin C supplementation.
Tolerable Upper Intake
Although vitamin C is a water-soluble vitamin, the National Institutes of Health has established a tolerable upper intake level for this vitamin. The tolerable upper intake level is the amount your child could safely take without increasing the risk of adverse reactions. The tolerable upper intake levels of vitamin C is 400 mg a day for children between 1 and 3 years old, 650 mg a day for children between 4 and 8 years old, 1,200 mg a day for children between 9 and 13 years old and 1,800 mg a day for teenagers between the ages of 14 and 18 years old. Monitor your child's intake of vitamin C through both food and supplements to make sure he does not consume more than he needs. Getting too much vitamin C may cause abdominal cramps, diarrhea and other gastrointestinal disturbances.
Healthy Diet Considerations
The American Academy of Pediatrics states that children who eat a healthy and balanced diet do not typically need any sort of vitamin supplementation. Determine how much vitamin C your child gets from food alone. If he already meets his recommended dietary allowance and does not have a medical condition that interferes with vitamin C absorption, he does not need a vitamin C supplement.
Vitamin C Foods
Instead of giving your child a vitamin C supplement, consider increasing her intake of vitamin C through the kinds of foods she eats. Foods high in vitamin C include raw red peppers, orange juice, oranges, grapefruit juice, kiwi, raw green peppers, broccoli, strawberries, Bussells sprouts and tomato juice.
Vitamin C for Common Cold
Although some believe that large doses of vitamin C may cure or prevent the common cold, this may not be true. There is conflicting evidence regarding the affect vitamin C intake has on viruses like the common cold. According to Harvard Health Publishing, it appears as if a dose of at least 200 mg a day may shorten the duration of the common, cold but it does not seem that vitamin C supplements are beneficial after the onset of cold symptoms. Talk to your child's pediatrician about the latest research if you intend to use vitamin C supplements to prevent or treat illnesses.