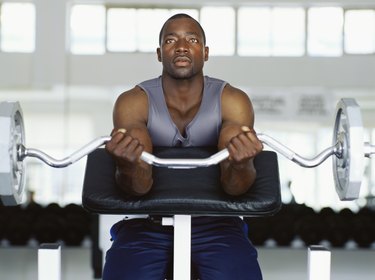 The terms "strength" and "power" are sometimes used interchangeably when exercise and athletic performance are discussed. Although both variables have similarities, there are distinctions that you should recognize when you talk about someone who is strong vs. powerful. Understanding the nature of strength and power can also help you select appropriate exercises and strategies to achieve your goals.
Time Under Tension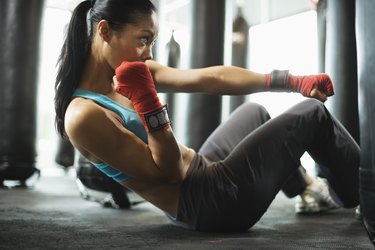 Strength is the ability of your nervous and muscular systems to produce enough internal force in your connective tissues and muscles to move an external force, such as weight or your body against gravity. Unlike power, strength requires no quick movements to produce force nor does it take time as a factor for work. For example, a strong person may take three to five seconds to stand up during a heavy barbell squat, but a powerful person can stand back up in one second.
Speed Plus Strength Equals Power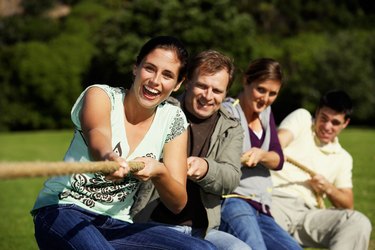 Adding a dose of speed to strength can make you feel like superhero performing superhuman feats. Power is producing the greatest amount of force in the shortest possible time. With the exception of powerlifting, most power exercises are performed repetitively over a period of time to improve speed, quick reflexes and stamina, such as vertical jumps, lateral hops and kettlebell swings. According to Sports Fitness Advisor, you can be exceptionally strong, but if you cannot contract your muscles quickly, then you're not powerful.
Best of Both Worlds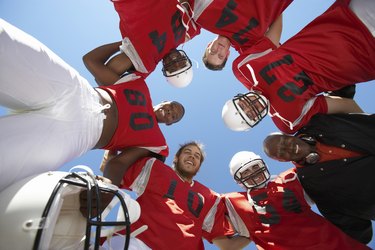 Strength training alone can only get you so far in maximizing some athletic abilities. If you're playing sports and activities that require quick bursts of energy, you should blend strength and power training together. In a study published in the June 2007 issue of "Medicine and Science in Sports and Exercise," researchers at Appalachian State University in North Carolina found that subjects who performed 12-weeks of power and strength training had greater improvements in jumping height and higher power output in jump squats than those who just did strength training. In theory, it is possible to gain greater strength with power training, but it's less likely to gain greater power with only strength training.
Sets, Reps and More
The number of sets, reps and speed can vary between strength and power training. For maximal strength training, perform four to six reps of one to five reps at 85 to 100 percent of your maximum effort, suggests the National Academy of Sports Medicine. In power training, you would perform three to five reps of eight to 10 reps at 30 to 45 percent of your maximum effort. Strength training is typical performed at different speeds when you lifting and lowering a weight, such as lifting a weight in two seconds and lowering it in four seconds. Power exercises are done as quickly as possible with movement control and rhythm.