Multivitamins -- which contain up to the recommended daily allowance of vitamins and minerals -- are sold in combinations suitable for children, adults and senior citizens. Adult multivitamins are manufactured to contain the recommended daily allowance of vitamins and minerals suitable for adults up to age 50. Children need a different recommended daily allowance of vitamins and minerals, so giving them adult formulas would not be suitable.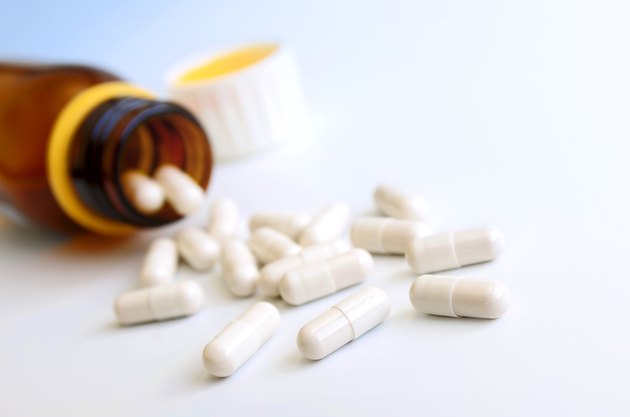 Recommended Daily Allowance
Each vitamin and mineral has a recommended daily allowance tailored to children, adults and seniors. Depending on the vitamin or mineral, one group may need a higher level than the other may. Generally, children shouldn't take multivitamin supplements unless a physician advises otherwise. According to Dr. Jay L Hoecker, emeritus consultant at Mayo Clinic, a multivitamin may be appropriate for children with eating disorders, those diagnosed with failure to thrive, those who don't eat balanced meals, those who don't obtain vitamin D through sunlight or diet, and those who have chronic diseases or food allergies.
Types of Multivitamins
Multivitamins have a combination of fat- and water-soluble vitamins or contain vitamins and minerals within one supplement. The supplements usually are taken daily, orally, by way of capsule, tablet, liquid or powder. Multivitamins are formulated according to the age group and sex. Children's multivitamins are available in chewable, gummy or liquid form to reduce choking hazards.
Risks
Children taking adult multivitamins may develop vitamin toxicity due to taking mega-doses of specific vitamins and minerals. For example, children ages 1 to 3 only require 700 milligrams of calcium, whereas adults 19 to 70 daily require 1,000 milligrams. Mayo Clinic suggests giving your child a multivitamin formulated for her age group to reduce this risk.
Considerations
Encourage your child to eat healthy foods and snacks. Do not replace proper nutrition with multivitamins. Keep multivitamins out of your child's reach, as kids may mistake them for candy. Mayo Clinic suggests purchasing a children's multivitamin that provides 100 percent of the daily-recommended value of vitamins and minerals.