When it comes to exercise, walking is one of the most accessible activities for people of all ages and fitness levels. Gentle on the body, yet brisk enough to raise your heart rate, walking has numerous benefits for both physical and mental health. The best part? Walking is one of the few activities you can do daily. Plus, it's simple, free (if you walk outdoors) and almost anyone can do it.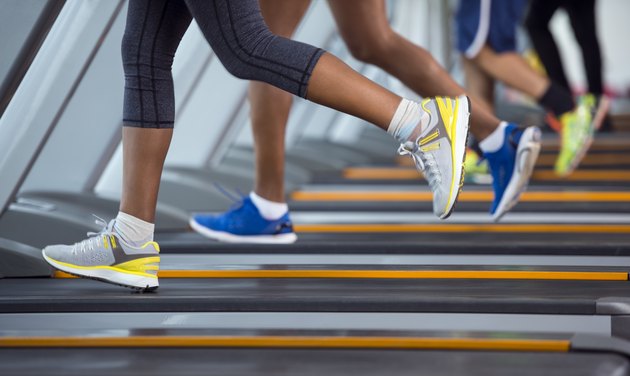 Tip
Walking an hour a day on the treadmill can help you lose weight, boost your heart health, reduce stress, lower blood pressure and improve bone health.
How Much Walking Is Enough?
If you're ready to start a walking program, you might be wondering how long, and how often, you need to hit the pavement or the treadmill in order to feel the health benefits.
According to the U.S. Department of Health and Human Services, adults should get a minimum of 150 minutes a week of moderate-intensity or 75 minutes a week of vigorous-intensity aerobic activity. That translates to 30 minutes per day, five days a week.
However, they also encourage adults to get more than 150 minutes, even citing as much as 300 minutes per week. If 30 minutes at one time is too much, consider breaking that chunk into smaller segments of two 15-minute sessions.
Health Benefits of Walking
One of the simplest, positive changes you can make to improve your health is to start walking, especially since all it takes is 30 minutes of physical activity five days per week to reap the rewards.
Aerobic exercise such as walking lowers blood pressure, raises the good HDL cholesterol and lowers the bad LDL cholesterol and triglycerides. It also helps protect against obesity, dementia, osteoporosis and depression. Plus, it reduces stress levels and contributes to better sleep.
If the weather is gloomy or it's dark outside, you may decide to hop on the treadmill. Walking an hour a day on the treadmill is just as beneficial as hitting the pavement outdoors.
In fact, exercising on a treadmill allows you to manually adjust the speed and incline, which makes it easier to increase the intensity and burn more calories.
Losing Weight With Walking
For walking to encourage weight loss, you need to focus not only on quantity but also on quality. Generally speaking, a 154-pound person can burn 280 to 460 calories walking one hour a day on the treadmill or outdoors.
The actual amount of calories depends on the intensity. Translation: the harder you work, the more calories you'll burn, which is the goal for fat loss.
When on the treadmill, consider doing intervals by increasing the pace and incline for a set amount of time (i.e., two minutes), followed by a lower workload that equals the work time. Repeat this sequence for 30 to 60 minutes.
Walking and Weight Training
Cardio and Strength-Training Bursts
If you want to combine your one hour on the treadmill with strength-training exercises, consider walking on the treadmill at a moderate pace for three minutes, followed by a series of strength-training exercises.
For example, walk for three minutes and get off and do 20 walking lunges. Walk for another three minutes, get off and do 10 push-ups. Get back on the treadmill and walk for three minutes; then hop off and complete 30 seconds of planks.
Repeat this pattern for 30 to 60 minutes while adding other strength-training exercises such as overhead press, biceps curls, triceps kickbacks, squats, chest press and lat pulldowns.