Tingling in the legs while running or engaging in activities that activate your leg muscles occur when your leg nerves compress. This compression contracts the nerves, causing a tingling sensation. Numbness and burning accompany the tingling in severe cases. Meralgia paresthetica is the clinical name for the condition commonly called "pinched nerves." Activating your leg muscles, applying firm pressure to your legs or even lightly touching your thighs can activate the symptoms of this condition.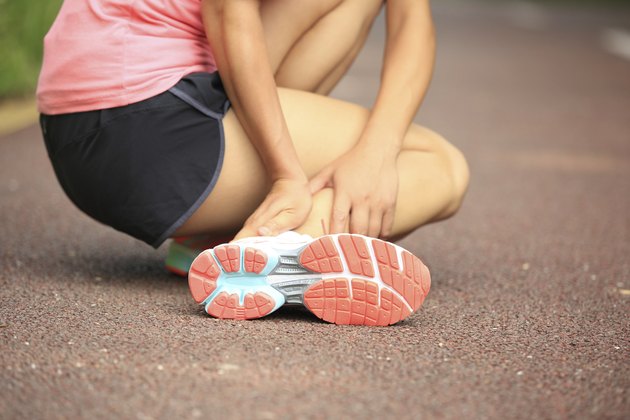 Causes
Trauma to the thigh or quadriceps, obesity, strenuous leg workouts, tight pants and pregnancy can lead to meralgia paresthetica. Restricted blood flow to the thigh muscles is the main cause of this condition. Low iron levels, high blood pressure and diabetes can also restrict blood flow to the legs, causing the thigh muscles to compress. Not only does physical activity exacerbate symptoms, standing or sitting in one position for long periods also enhance the tingling and numbing sensations.
Diagnosing Meralgia Paresthetica
Meralgia paresthetica is formally diagnosed using MRI or x-ray machines as part of a comprehensive medical exam, according to Johns Hopkins Medicine. Prior to scanning your legs, your physician may inquire about recent activities, surgeries or injuries that possibly damaged the nerves in your legs. X-rays and MRIs typically display bone or nerve abnormalities. Nerve conduction studies, which evaluate sensory and motor function of nerves, can also detect meralgia paresthetica.
Treatment
Mild to moderate cases are treated using solutions that relieve pain and discomfort. Mild sufferers can use over the counter medications that contain ibuprofen to reduce nerve pain and inflammation. Doctors may also suggest physical therapy, weight loss and nerve injections, such as corticosteroid, to reduce inflammation. In severe cases of meralgia paresthetica, doctors may suggest nerve decompression surgery.
Prevention
Decreasing your weight is one way to relieve the symptoms of numbness and tingling in your legs. By losing weight, you will decrease the amount of pressure put on your nerves, which alleviates symptoms. You can prevent meralgia paresthetica by wearing loose clothing and by avoiding strenuous leg exercises and excessive running. Performing activities that regulate the blood flow throughout your body, such as yoga, also prevents meralgia paresthetica.