Beef chunks, cut from less tender parts of the cow, are best cooked slowly with moist heat. Slow cooking in liquid keeps them moist while breaking down the tendons that make the meat chewy. If you don't need cubes of meat, you can get additional tenderness by pounding the meat before cooking. Use tender beef chunks to make beef stew, stroganoff, shredded beef and casseroles.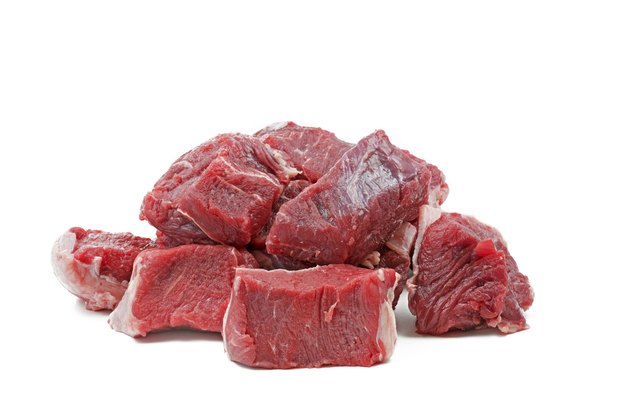 Step 1
Pound the beef chunks with a meat mallet. Pounding tenderizes the meat by breaking connective tissues and long muscle fibers that make the meat chewy. For traditional cube shapes of meat, skip this step or pound a larger piece of meat before cutting the cubes.
Step 2
Marinate beef chunks overnight in a marinade containing acidic ingredients such as wine or a flavored vinegar, olive oil and seasoned with herbs such as herbes de Provence, garlic, rosemary, sage, black pepper.
Step 3
Sear the beef chunks quickly in a tablespoon of oil over medium-high heat in a heavy skillet or Dutch oven, just until browned. Avoid over-crowding the pot, you want to keep it hot to avoid stewing the meat.
Step 4
Cover the meat with broth, consome, red wine, or other flavorful liquid. Bring the liquid to a simmer, then lower the heat and simmer covered on the stove-top for 2 to 3 hours. Alternately, transfer the meat and cooking liquid to a slow cooker set on low for 8 hours. Add a chopped onion and minced garlic to the pot for extra flavor.
Step 5
Add vegetables during the last hour of cooking to make stew, if desired. Potatoes, carrots and other root vegetables are nice additions. Celery, beans and peppers are sometimes added.
Step 6
Thicken the cooking liquid, if desired, with a mixture of flour or cornstarch and water. Add the mixture while stirring and continue to cook until all raw flour taste is gone and the gravy is thick.
Things You'll Need
Meat mallet

Marinade ingredients

heavy skillet or Dutch oven with lid

Vegetable oil

Chopped onion

Minced garlic

Flour or cornstarch