Unfortunately, most people in the United States have excess body fat. Over two thirds of adult Americans are classified as overweight or obese, according to the American College of Sports Medicine. And if you carry it around your middle, it can lead to increased risk of heart disease, diabetes and other metabolic disorders. Doing crunches everyday will help tighten your abs, but it won't get rid of the fat.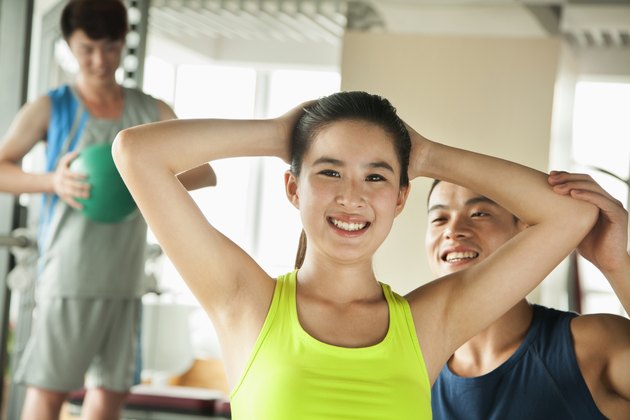 Body Fat and a Slim Tummy
Everyone is built a little differently. Some people gain weight and it goes first to their butt and thighs. Others gain it and it seems like only their tummy gets bigger. In your midsection fat can accumulate right under the surface of your skin, or around your organs. The subcutaneous fat is superficial, while the visceral fat is deep inside your body. To slim your tummy you need to reduce both subcutaneous and visceral fat, and this will also improve your health.
Why Crunch
The crunch is a beginner-level exercise that targets the rectus abdominis, with help from the obliques, according to the American Council on Exercise. It's performed lying on a mat with your knees bent and feet flat on the floor. Your hands are behind your head and you lift your head and shoulders off the ground to contract your abs. Crunches are a small movement and are great way to learn how to contract your midsection to get the most out of your ab workouts. They also help build the muscular endurance and strength of your abs. But you can quickly become accustomed to crunches, and need a bigger challenge to help tighten and slim your tummy.
Ab Training Recommendations
Ideally you want to do more than one exercise for your ab area. And you want to continually challenge your body so it has to adapt so you see results. Add a few other exercises that focus on your midsection in addition to crunches for a more effective workout. Try reverse crunches, lifting your knees into your chest by contracting your abs and keeping your head on the floor. Move onto a bicycle maneuver, scissoring your legs in and out as you twist your torso to the opposite side. Finish off with a vertical leg crunch. Put your feet up in the air over your hips and crunch your head and shoulders up and down. These can be done everyday in addition to your basic crunches. Do one to three sets of up to 20 reps for each exercise.
Don't Forget the Cardio
You can't spot reduce and just get rid of the fat on your tummy. When you exercise you lose weight, or fat, from all over. So to slim the tummy, do your cardio. If you just have a little excess weight, perform cardio three to five times per week for 30 minutes. If you carry more than a little excess fat around your abs, then exercise five to seven days per week for 30 to 60 minutes per session. Keep your intensity moderate to vigorous for the best results, and to slim down your tummy.