Elite swimmers look good even when they aren't encased in girdle-tight, competitive swimsuits, but getting that sleek profile takes discipline and exercise. Water provides steady, gentle resistance for effective workouts. In addition to swimming laps, you can perform specific swim drills that target your abdominals, improving your swimming and the way you look in your suit.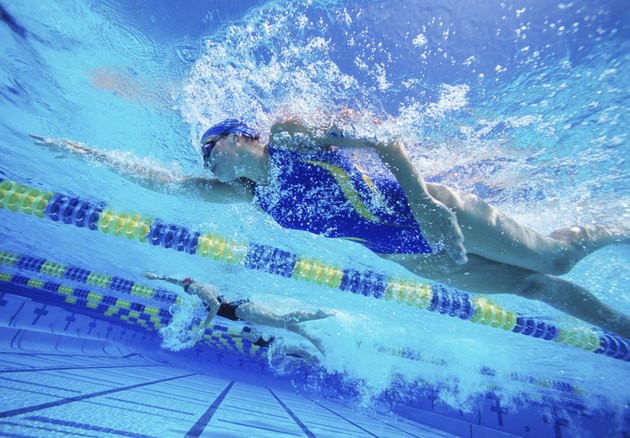 Abdominal Core
Swimming relies on your core abdominal strength for speed and power, and using the correct technique during your strokes will help build those muscles. Rather than keeping your torso inert and flailing with your legs and arms, focus on generating power from the abdominal muscles that connect them. Contract your belly button back towards your spine to engage your core while you swim, and rotate from one side to the other during freestyle to help you access the large muscles in your back and drive the motion from your hips.
Kick Drills
Target your abdominal muscles by performing dolphin-kick drills, either on your side, with a kickboard, or on your back using swim fins. Push off from the pool wall on your back for the back-dolphin kick drill, and stretch your hands straight out above your head, forearms tight against your ears, and palms clasped together. Starting from your hips, create an undulating motion, and use your abdominal muscles to create a body wave that moves you across the pool. Rather than just kicking up and down with your legs, use your entire body to generate movement. To really feel the burn, hold hand weights as you perform the drill.
Aquatic Calisthenics
Land-based abdominal workouts translate well into the pool -- and let you work out with less strain or risk of injury. You can work exercises into your regular swim workout, either breaking up longer sets or performing them after you finish a swim. Hook your arms over the pool wall and secure your back against the pool wall. Lift your straight legs up to a horizontal position and then lower them again. Bend your knees and repeat the exercise as many times as you like.
Considerations
Swimming builds your strength in your core, but unfortunately, any excess surface fat tissue sits above your muscles, just below your skin. Regardless how impressive your abs, you must burn off the fat covering them to see results in the mirror. Calculate how many calories you need per day and reduce your intake by a modest amount. Eat a reduced-calorie diet full of fresh vegetables and whole grains, and over time you will see improvement in your profile.