Carbohydrates are a major source of fuel and can be divided into two groups: simple and complex. Simple carbs, also called simple sugars, include fruits and refined sugars. Complex carbs, also called starches, are found in grains, beans, root vegetables, brown rice, whole grain pasta and whole grain breads. Complex carbs that are refined become refined starches such as white bread and flour, processed cereals, baked goods, white pasta and white rice. Carbohydrates are a necessary source of fuel for the body and you must be careful when eliminating carbs from the diet.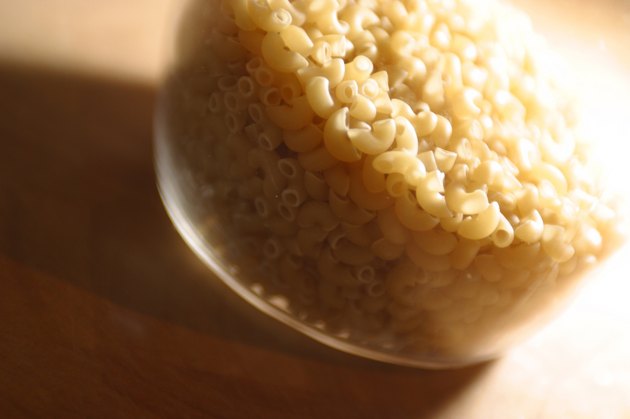 Low-Carb Diets
Low-carbohydrate diets are designed to improve health; decrease body weight; and treat diseases such as diabetes, epilepsy, chronic fatigue syndrome and polycystic ovarian syndrome. Foods high in carbs are replaced with those high in protein and fats. The number of carbs permitted each day varies according to the actual diet plan. Examples of low-carb diet plans include the Atkins Diet, the Zone Diet, the Primal Blueprint and the South Beach Diet. According to the Mayo Clinic, long-term effects of a low-carb diet are still being studied. Speak to your doctor to make sure a low-carb, high-protein diet is right for you.
Weight Loss
One of the most obvious effects of eliminating carbs from the diet includes weight loss. When carbs are limited, the body's production of glucose is reduced. Glucose is involved with weight and blood sugar. The body typically burns glucose from carbs as a fuel source. When those carbs are reduced, the body finds other sources of fuel and burns stored fat for energy. This results in fat loss and loss of water weight due to the diet's diuretic effect.
Constipation
Constipation is a negative side effect of reducing or eliminating carbs from the diet. Fruit, vegetables, and whole grains provide fiber, which is necessary for a healthy colon. Soluble fiber adds water to the stool, which makes it easy to pass through the colon. Insoluble fiber adds bulk to the stool, which also helps ease it through the colon. According to the Mayo Clinic, a long-term fiber deficiency can also result in diverticulitis and a higher risk of some cancers.
Kidney Damage
A long-term diet that is high in protein can result in kidney damage. Most low-carb diets are high in protein, so people with kidney damage should very carefully monitor their protein intake. The Mayo Clinic says that a low-carb diet should last no more than four months. People with kidney disease, liver disease or diabetes must very carefully monitor their protein intake and should speak to their doctor before beginning a high-protein diet plan.