Muscle twitches also are called spasms and occur when your muscles involuntarily contract. Twitches usually are short-lived but they can be painful. The most common areas that develop spasms are the hands, feet, toes and thumbs, according to Medline Plus. Muscle twitches occur for a variety of reasons, ranging from an underlying medical condition like Parkinson's disease to excessive exercise, dehydration or a vitamin deficiency. For any persistent muscle twitching, you should consult your doctor for a definitive diagnosis.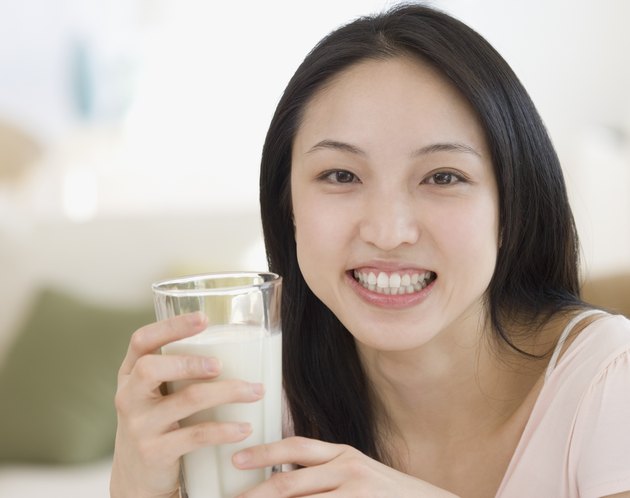 Vitamin D
In addition to the twitching, you might experience cramping and a feeling of tingling in your extremities when you have a vitamin D deficiency. Your body can't absorb sufficient amounts of calcium and phosphorus in your blood without proper vitamin D levels. Between the ages of 1 and 70, you need about 600 IU of vitamin D a day to promote healthy bone development and muscle movement. The most common source of vitamin D is sunlight. Very few foods naturally contain vitamin D, but it is added to a number of dietary sources for that reason. According to the Office of Dietary Supplements, all U.S. milk contains at least 400 IU per quart. In addition to muscle spasms, vitamin D deficiency can lead to bone cancer, multiple sclerosis, diabetes and hypertension.
Vitamin B6
While vitamin B6 deficiency is rare in the United States, it does occur. Vitamin B6 deficiency is one of the main causes of muscle twitches in alcoholics who don't eat a balanced diet, according to the Linus Pauling Institute. Strict vegetarians and seniors also are at a greater risk of vitamin B6 deficiency. The vitamin is essential for a number of chemical enzyme reactions and plays a significant role in the release of glucose in your muscles. B6 is a water-soluble vitamin that you must acquire through your diet or from supplements. Adults need 1.3 to 1.7 mg of vitamin B6 per day, an amount that can added by consuming fortified cereals, salmon, bananas, russet potatoes with the skin intact or cooked spinach.
Vitamin B12
Shaky movements, muscle weakness, low blood pressure and mood disorders are signs of a vitamin B12 deficiency. Anemia is one of the most common side effects of insufficient B12 needed to promote healthy red blood cell development. You need about 2.4 mcg of vitamin B12 per day after the age of 14. In addition to building healthy red blood cells, B12 also plays a significant role in nerve conduction. Meat, fish and dairy products typically provide sufficient B12 in your diet to prevent muscle spasms and other side effects. Vitamin B12 is a water-soluble nutrient that your body stores to cover any temporary dietary shortages.
Mineral
Although not a vitamin but a mineral, every cell in your body needs calcium. While calcium deficiency typically is associated with reduced bone density, calcium is necessary for proper muscle function as well. It is vital for nerve conduction and muscle contraction control. Males and females between the ages of 9 and 18 need about 1,300 mg of calcium a day to prevent muscle twitches, according to the Office of Dietary Supplements. Between 19 and 50, you need about 1,000 mg. Women over 50 should increase calcium intake to 1,200 mg a day to prevent bone loss. You can get calcium from dietary sources such as dairy products and fortified orange juice or you can take a vitamin supplement that often contains added vitamin D as well. Talk to your doctor before taking vitamin supplements to make sure they don't interfere with any other ongoing treatments.