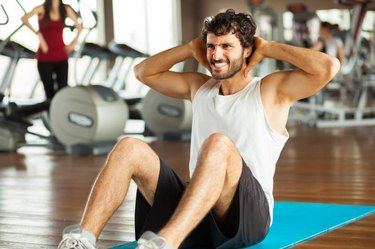 You've been ingrained to view sit-ups as the pinnacle of abdominal exercise since grade school. After all, this move is included as part of the President's Challenge, a program put forth by the President's Council on Fitness, Sports and Nutrition to encourage people be more active in their daily lives.
While sit-ups do target the abdominal muscles, they also engage a whole lot of other parts of the body. If you do sit-ups as your sole abdominal-strengthening exercise, you may end up with tight hips, a strained back and unbalanced abs.
What Is a Sit-Up?
Sometimes referred to as curlups, the standard sit-up involves lying on your back on a mat with feet restrained, either by a partner or by hooking them under a stable object. With your hands cradling your head and neck, you then lift your torso all the way up to your legs and lower back down to complete one repetition.
Multiple variations of the move exist. Cross the arms over your chest, perform the move without anchoring your feet, curl up and down on an incline bench or hold a weight at your chest or behind your head as you execute the sit-up.
You may also perform sit-ups on an unstable surface, such as a stability ball or half-ball. Research published in a 2008 issue of Perceptual Motor Skills showed that the most muscle activation occurs when you do a full sit-up on a firm surface, such as the floor, however.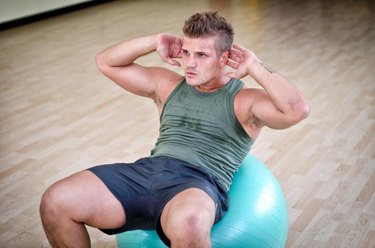 Abdominal Muscles Activate
The primary muscle activated during a sit-up is the rectus abdominis, the sheath of muscle fibers that cover the front of your torso. If you do a sit-up without anchoring the feet, you'll activate this muscle more so than you do with the feet anchored, showed a study published in the Journal of Strength and Conditioning Research in 2013.
The obliques at the sides of your waist also activate during a sit-up. They assist the action and aren't the primary movers. In real life, these muscles bend your torso side to side and rotate you left and right.
Hip Flexors Tighten
The hip flexors, also known as the illiopsoas, assist you when you flex and extend your torso, as happens when you rise and lower during a sit-up. The hip flexors are a group of muscles that connect the femur, or thigh bone, to the pelvis. They're activated when you sit, stand, run, walk or squat.
Leg Engagement
Although you think of sit-ups as an ab-specific move, you may feel the fronts of your thighs fatigue after you've performed a number of reps. This is because the muscles of your quadriceps, including the sartorius and rectus femoris, are engaged as you do a sit-up.
Another thigh muscle, the tensor fasciae latae, located at the outer upper thigh also works during a sit-up. The anterior tibialis at the front of your shins stabilizes the lower legs when your feet are hooked under a brace.
What Sit-Ups Don't Work
Sit-ups aren't a comprehensive core exercise. They fail to work the internal abdominal muscles, including the transverse abdominis, which are critical to good posture and stabilization.
It's OK to include sit-ups as part of your core routine, but also do a variety of other exercises to also work muscles that support your spine and that directly target your obliques. Consider adding front planks, bird dogs and cable rotations for a more comprehensive workout.