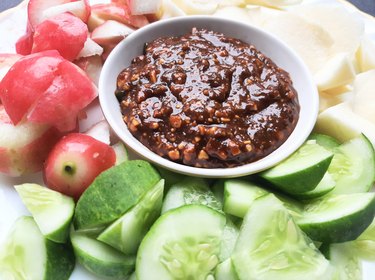 "If you're hungry, eat more fresh or steamed vegetables," suggests the U.S. Department of Health & Human Services. That's great advice: Steaming is a simple and healthy way to cook vegetables while retaining flavor and color, without adding fat or calories.
That said, though, steamed veggies can sometimes lack pizzazz — and that's where these five easy-to-make dipping sauces come in. Sweet, savory, tangy and flavorful, they liven up the taste of steamed vegetables of all sorts.
Serve these sauces alongside your steamed vegetables for dipping, toss your vegetables in the sauces as you would with salad dressing, or drizzle the sauces on top. For a special meal, serve up an assortment of steamed vegetables and a selection of dipping sauces in separate bowls. Each of these five sauces can be prepared up to a day in advance. Enjoy!
Vinegar sauce gives steamed vegetables a sweet, tangy, Asian flavor. To make it, just whisk together one cup of rice vinegar, half a teaspoon of sugar, two tablespoons of ketchup, two tablespoons of soy sauce and half a teaspoon of sesame oil.
Sweet mustard sauce accentuates the flavors of steamed vegetables such as carrots, broccoli and cauliflower. To make it, whisk together two tablespoons of Dijon mustard and one-fourth cup of maple syrup until thoroughly blended, then whisk in two tablespoons of soy sauce and a quarter teaspoon of freshly ground black pepper.
Yogurt sauce is a cool, refreshing sauce that adds a mild spicy flavor to steamed vegetables such as artichokes and asparagus. To make it, put a one-cup dollop of plain yogurt into a bowl, then stir in a tablespoon of ground cumin, a tablespoon of curry powder and one-fourth teaspoon of salt.
Tip
Greek yogurt gives sauces an especially rich and creamy consistency.
4. Carrot and Pepper Sauce
Used sparingly, carrot and pepper sauce adds a fiery flair to steamed vegetables such as potatoes and broccoli. Start with one and a half tablespoons of fresh-squeezed lemon or lime juice, then stir in one clove of minced garlic, three tablespoons of grated carrot, a pinch of sugar, and minced chili peppers (Anaheim, habanero or jalapeño) to taste.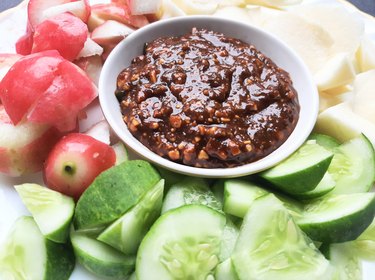 Rojak is a vegetable and fruit salad commonly served in Indonesia, Singapore and Malaysia. The vegetables and fruits in rojak are tossed with a thick, brown sauce. Rojak sauce has the consistency of melted caramel and a complex, sweet, salty and spicy flavor. You can find the ingredients to make rojak sauce at your local Asian market or natural foods grocer. It takes about 25 minutes to make rojak sauce, plus an additional 30 minutes for it to cool. This recipe makes half a cup of sauce.
Ingredients
3 tbsp. dark brown sugar
1 tbsp. oyster sauce
1 tbsp. shrimp paste
1 tbsp. tamarind paste
1 tbsp. minced Scotch bonnet, serrano, habanero or jalapeño pepper
Step 1
Pour half a cup of water into a saucepan and place it over high heat. Bring the water to a boil and reduce the heat to low.
Step 2
Add the dark brown sugar to the saucepan and whisk until the sugar dissolves.
Step 3
Add the oyster sauce, shrimp paste and tamarind paste to the saucepan and continue whisking for two minutes.
Step 4
Whisk in the Scotch bonnet pepper and simmer the mixture for 10 minutes.
Step 5
Remove the saucepan from the heat and allow the sauce to cool to room temperature before serving. Refrigerate or freeze leftover rojak sauce immediately; consume refrigerated sauce within five days and frozen sauce within three months.