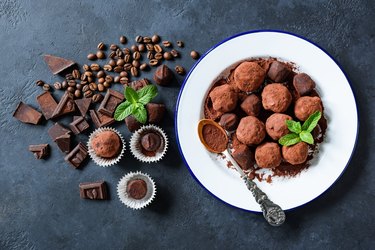 Chocolate truffles are a rich and luxurious treat. These candies are easy to make at home. Most recipes require good-quality chocolate, heavy cream and sometimes butter. If you don't have cream on hand, you can make a replacement for heavy whipping cream with milk and butter.
Vegans can make an easy truffle recipe without cream by replacing the usual heavy cream with non-dairy alternatives from the health food store or specialty market, like unflavored soy cream or coconut cream. Keep the texture and flavor you love in your best chocolate truffle recipe, while swapping out the cream for what's on hand or what suits your diet.
Step 1: Chop Up the Chocolate
Chop three cups of good-quality dark chocolate or use high-quality chocolate disks or chips. Place into a large, heat-proof mixing bowl.
Step 2: Mix Butter and Milk
Melt 1/4 cup of butter in a small saucepan. Add 3/4 of cup of whole milk and bring to a boil to replace 1 cup of heavy cream in your favorite truffle recipe.
Step 3: Mix Ingredients Together
Pour the hot milk and butter mixture over the chopped chocolate. Allow it to sit briefly, and then whisk until smooth and silky.
Step 4: Chill and Scoop
Line a pie pan with parchment paper and pour the chocolate ganache mixture into the pan. Chill for several hours. Once the mixture has solidified, use a melon baller to scoop into truffles.
Vegan Chocolate Truffles Without Cream
Step 1: Break Up the Chocolate
Cut or break three cups of dairy-free chocolate into 1/4-inch chunks. Transfer the chocolate to a large mixing bowl.
Step 2: Heat It Up
Place the bowl of chocolate over a saucepan of simmering water to create a double boiler. Avoid allowing the bowl to touch the water.
Step 3: Add Cream Replacement
Substitute soy or coconut cream in place of heavy whipping cream to make vegan truffles. Use 2/3 cup of soy milk with 1/3 cup of oil in place of one cup of heavy cream, as suggested by Children's Hospital of Los Angeles.
Replace heavy cream with an equal amount of coconut cream. Pour the cream into the bowl with the chocolate.
Step 4: Whisk the Mixture
Allow the chocolate to melt, whisking the cream into the mixture until it is smooth. Transfer it to a baking dish, chill and scoop as you would a traditional dairy-based truffle.
If you'd like to add liqueur, do so after whisking the cream into the chocolate. Add up to 2 tablespoons per cup of chocolate. Add 2 to 3 tablespoons of butter or vegan margarine along with the cream for a richer truffle.
Once the truffles are made, coat them with additional chocolate and roll them in cocoa powder, nuts or coconut for a pretty presentation.
Things You'll Need
Knife

Cutting board

Mixing bowl

Dark chocolate

Saucepan

Butter

Whole milk

Whisk

Pie pan

Kitchen parchment

Melon baller

Soy-based creamer

Coconut cream