You can develop larger gluteus medius muscles, or hip abductors, by targeting the muscle group with resistance training exercises. Training with free weights and doing a minimal number of repetitions promotes muscle growth by placing stress on the hip abductors. Make sure to rest at least one day before training your gluteus medius again to optimize muscle gains.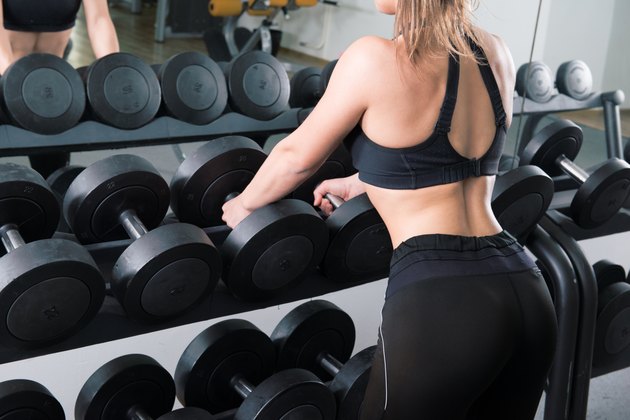 Step 1
Do cable hip abductions to target your gluteus medius muscles. Stand with your right side facing a low pulley station. Fasten a cable cuff to your left ankle. Take one step away from the station and grasp the support handle with your right hand. Swing your left leg in front of your right leg. Lift your left leg out away from the pulley station as high as you can. Hold the peak contraction for a moment to accentuate your gluteus medius muscles. Slowly return your left leg to the starting position. Do three sets of 10 reps to build muscle mass, resting for two minutes between sets. Repeat the exercise with the opposite leg, performing the prescribed number of repetitions.
Step 2
Perform weighted side bridge hip abductions to develop large gluteus medius muscles. Fasten an ankle weight on your left ankle. Lie on your right side with your legs straight, placing your right forearm on the ground and perpendicular to your body for support. Elevate your hips off the ground while raising your left leg as high as possible, keeping your right foot in contact with the ground. Return to the starting position. Do three sets for 10 reps. Rest for two minutes between sets. Repeat the movement while lying on your left side.
Step 3
Do knee to chest stretches to increase the flexibility of your gluteus medius muscles. This helps you move the hip abductors through a wider range of motion, promoting hypertrophy, or muscle growth. Lie on your back. Extend your left leg and pull your right knee to your chest, folding your hands under the right knee joint. Pull the knee lightly up toward your upper body. Repeat the movement with the other leg. Stretch each leg for 30 seconds to improve your flexibility.
Tip
Perform side bridge hip abductions on cushioning, such as a mat or towel. Train with a spotter to maintain proper exercise form and reduce the risk of injury to your hips. Check with your doctor before starting a resistance training regimen.