A consistent exercise program reduces your risk of chronic diseases like osteoporosis, diabetes, high blood pressure and high cholesterol. The frequency of your gym visits depends on your exercise goals; however, running every day or training the same muscles multiple times per week can be quite deleterious to your health. Varying the type and the intensity of your gym workouts enhances your health and accelerates the accomplishment of your goals while reducing your risk of overuse injuries.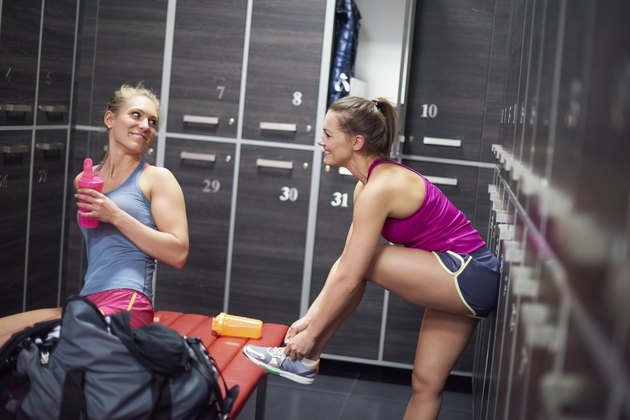 Prevent Chronic Disease
The American College of Sports Medicine, or ACSM, recommends you incorporate three to five days of aerobic exercise per week, depending on the intensity of your workout. If you exercise at a light to moderate intensity in which you can talk but cannot sing, you should do aerobic exercise five days per week. Obviously, if you have a gym membership you can do a variety of aerobic exercises five times during the week, including workouts on a treadmill, elliptical machine, stationary bicycle or even a group fitness class. The association also recommends two days of a progressive resistance training routine. Depending on your schedule and your access to equipment, you may do all of your workouts at the gym for five to six days per week, or perhaps take one to two days for a walk-and-run session around your neighborhood.
Body Fat Loss
Losing body fat at the rate of 2 lbs. per week does require 60 to 90 minutes of exercise per day. If you want to complete your daily workouts in one session, you should be exercising in a gym five to six days a week. Complete two to three days of resistance training, which increases the rate of muscle tissue remodeling and repair, burning plenty of calories even while you are sitting down. Focus on aerobic exercise the other three to four days a week, varying the intensity of your training from light to moderate to highly intense. If you prefer to lose weight at a rate of a half pound per week, you must pay close attention to limiting your caloric and carbohydrate intake. At a slower rate of weight loss, you should workout three to four days per week, ensuring your workouts are 60 to 90 minutes at a moderate to vigorous intensity.
Maximum Strength
Maximum strength is your ability to lift as much weight as possible for one to five repetitions of any resistance exercise. When training to significantly strengthen your muscles, you should only be lifting weights three to four days per week, focusing on a different muscle group during every workout. Your aerobic exercise should be minimal, not much more than a comfortable walk for 20 to 30 minutes, one to three days per week. Certainly, you can walk on the treadmill at the gym or around your neighborhood. Ultimately, you only need to go to the gym three to four days per week to develop maximum strength.
Massive Muscles
Developing and building the size of your muscles generally entails three to six days of weight training. Muscle-building programs should change every four to six weeks so you may alternate between a month of three weekly workouts and a month of six weekly workouts. Additionally, you may also incorporate weekly workouts of four or five days of training. Workouts lasting three to four days tend to focus on two muscle groups per session while routines utilizing five to six days of training focus on one muscle per day.