Running a sub-six-minute mile is not as simple as one may think. It requires a combination of muscular strength and cardiovascular endurance. Training for and racing the mile is all about embracing a challenge. If you commit to a weekly training schedule and stay patient, you just might reach your goal.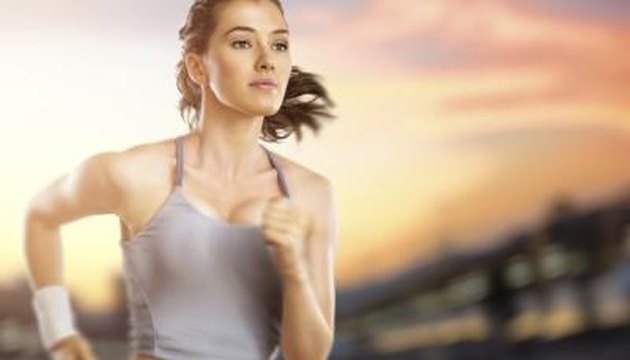 Mock Races
Run a mock race before starting your new training program to know what your current mile time is. After starting your training program, run a mock race every two weeks to track your progress. Aerobic, interval and strength training are all good workouts, but races are often the best workouts as long as they are done in moderation. If possible, run the mock races with someone. This helps push the pace, making your ultimate time even faster. Continue training and tracking your progress with mock runs until you ultimately reach your sub-six-minute-mile goal.
Tempo Runs
Running a sub-six-minute mile requires you to have an aerobic base. Tempo runs build and improve your aerobic conditioning. Perform tempo runs three times per week for 30 minutes each run. Perfect your running form during these runs. Focus on running tall, relaxed and incorporating your arms. Start with a comfortable pace and gradually increase your pace each week. Tempo runs are meant to be challenging but not entirely exhausting.
Intervals
Interval training is extremely effective at increasing running speed. Perform intervals one to two times per week. Intervals are done by sprinting for 200 to 400 meters and then jogging for 200 meters. Do your series of sprints as fast as you can, with slow jogs in between. Every sprint you perform should increase in speed. You may opt for ladder sprints, working your way from 100 to 200 to 400 meters and "pyramiding" back down from 400 down to 100. As your body adapts to the routine, increase the amount of sprints you do.
Hills
Running hills is done to increase strength. Incorporate hill running just once per week. First, find a hill 200 to 400 meters long. If possible, use a dirt or grass hill because it will be easier than concrete on your body. Run up the hill at a fast-paced jog and immediately jog back down. Perform 10 repetitions with one minute of rest between each rep. As your body adapts to the routine, increase the amount of reps.