If you have a condition that lowers your B12 levels, you may need to make dietary changes or take supplements. In some cases, severe deficiencies call for a B12 shot. The time it takes for your symptoms to improve depends on the degree to which you are deficient, as well as the condition for which you take B12. Talk to your doctor before trying B12 supplements.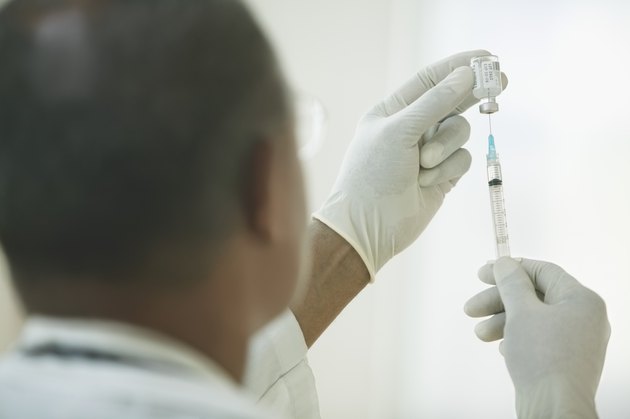 Vitamin B12
Vitamin B12 plays an important role in many of our everyday functions. Without it, the nervous system and circulatory system cannot work optimally. B12 comes from many of the foods you eat. Some people do not get enough B12 in their diets, however, and others may have difficulty absorbing the nutrient from their food. In these cases, you may need supplemental B12. Supplemental B12 is available in capsules, gels and even injections. The type you need depends on the degree of your deficiency. While most people's blood B12 levels range between 200 and 900 pg/mL, according to Medline Plus, you may experience deficiency symptoms once your levels drop below 200.
Deficiency Symptoms
Older people and those who take reflux or peptic ulcer medications may not absorb B12 from their food as efficiently as everyone else, according to the National Institute of Health Office of Dietary Supplements. Others, such as vegans and strict vegetarians, may miss out on B12 due to their dietary restrictions. Chronic digestive disorders can also interfere with B12 absorption. All of these can lead to a B12 deficiency, which causes a number of unpleasant side effects. You may feel sluggish and weak, experience tingling in your hands and feet, feel confused or even have trouble with your balance.
B12 Supplements
When your B12 levels fall low, you may require supplemental B12 to raise them back to the normal range and to decrease your symptoms. Depending on the severity of your symptoms and your deficiency, you may need a high oral dose of B12, or a faster-acting nasal spray or injection. HealthCentral.com reports that deficiency symptoms may improve within 2 to 3 days of a vitamin B12 injection. Nasal sprays are also faster acting than pills. Oral doses may take more time, depending on vitamin concentration and rate of absorption. For people with more severe anemia symptoms, B12 injections may be accompanied by blood transfusions as well, which may require more time for recovery.
Long-Term Effects
For some people, B12 deficiencies can be resolved over time by making a few dietary changes. For others, however, regular injections or daily supplements are needed long-term to keep deficiency symptoms at bay. Those requiring regular injections generally receive them at 1- to 3-month intervals, according to HealthCentral.com. Some people use nasal spray at a rate of 500 mcg weekly, although the exact amount prescribed depends on your specific needs. Many others can get by with regular oral supplements to maintain their blood levels. Talk to your doctor about B12 supplements. He can give you an expected recovery time based on your own specific diagnosis and needs.