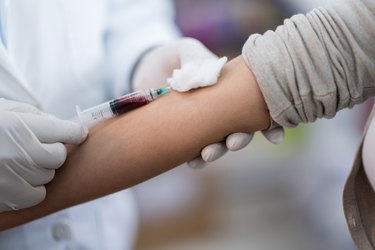 Vitamin deficiency symptoms can adopt many different forms, but this doesn't make them unidentifiable. Vitamin and mineral deficiencies occur when the body isn't receiving enough of the nutrients it needs to function at an optimal level. If a balanced diet is being consumed, then it's easy to fall prey to the assumption that all of the vitamins needed are covered, but this isn't always the case.
Vitamin absorption can be affected by various factors unique to an individual's biological makeup, so it isn't just diet that needs to be taken into consideration.
Vitamin Deficiency Symptoms
There are many different vitamin deficiency symptoms, and they vary based upon which vitamin your body is lacking. Here are some of the symptoms of vitamin deficiency and which vitamin they relate to.
Excessive hair loss can be a ​symptom of an iron deficiency​​.​ Other symptoms include headaches, low body temperature and experiencing dizziness often. Luckily, with iron supplements, this vitamin deficiency can be easily reversed.
Burning Sensations and Vitamins
Rush University Medical Center informs that a ​burning sensation​ in the feet or tongue can be a vitamin deficiency symptom, relating specifically to a lack of B12. Other symptoms include balance issues, constipation and dry skin.
Similarly to iron, a B12 deficiency treatment can be done through ​supplements​. They are an effective way to raise your levels if there's a suspected deficiency. Rush University advises a daily dose of ​2.4 mg of B12​ to maintain efficient levels.
Warning
If you adhere to a vegan diet, it's especially important to consider your B12 intake, as it is naturally occurring in meats and dairy.
If bruises form very easily or if the gums bleed when brushing teeth: You may have a vitamin C deficiency.
Rush Medical recommends increasing the intake of ​fruits and vegetables​ such as red bell peppers, kiwi and oranges. Healthy adults should get 60 mg of vitamin C daily.
Additional Vitamin Deficiency Symptoms
As informed by the Mayo Clinic, vitamin deficiency symptoms may include:
Fatigue
Shortness of breath
Irregular heartbeats
Personality changes
Unsteady movements
Mental confusion
Forgetfulness
The Mayo Clinic also informs that vitamin deficiency symptoms often develop ​slowly over time​, so they may be ​difficult to identify​ at first.
If any of the above are experienced, a medical professional should be contacted, as they will be able to advise on the best course of treatment.
A vitamin deficiency test comes in a variety of forms, but most common among them is through blood tests. ​Blood tests for vitamin and mineral levels​ allow a health care professional to evaluate to what extent a body is deficient.
With vitamin deficiency anemia, a body will possess fewer blood cells than normal, and if this is due to a lack of vitamin B12, the blood cells will appear larger and underdeveloped.
According to the Mayo Clinic antibodies can also be tested for vitamin and mineral deficiencies. Other methods include checking blood for methlymalonic acid as higher rates of this substance appear in bodies deficient in B12.
How to Prevent Deficiency
A study published in January 2018 in the Nutrients Journal confirmed that the best way for vitamin deficiencies to be prevented is through a ​balanced diet​ that incorporates all of the necessary vitamins the body requires.
A further study, also published in the Nutrients Journal in 2017, advises that multivitamin supplements are also a highly effective way of minimizing the risk of vitamin and mineral deficiency.