Eating healthy can be simplified when taking prescription warfarin, once you know which foods contain vitamin K. Several foods interact with this medication — including fruits and vegetables that provide vitamin K.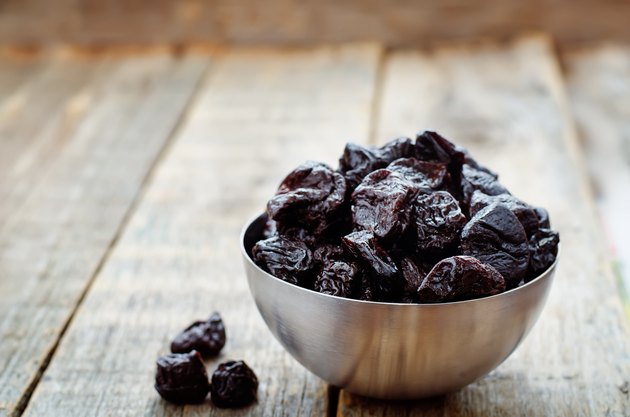 Vitamin K is a nutrient that makes the clotting factors responsible for thickening the blood — and can negate warfarin's blood-thinning effects. Knowing which fruits contain vitamin K can help you eat consistent amounts in your diet and allow warfarin to work effectively.
Fruits to Limit
The recommended adequate intake for vitamin K for is 120 and 90 micrograms for adult males and females, respectively. Vitamin K is essential for good health, but when taking warfarin, you need to be aware of the vitamin K content of various foods and limit those that contain high amounts.
A 1-cup serving of prunes, or dried plums, is the highest source of Vitamin K among fruits with a total of 103.5 micrograms, or 129 percent of the recommended daily value. Plaintains are the second highest at 77.8 micrograms per 1-cup serving, followed by kiwifruit at 72.5 for 1 cup.
Other fruits that are moderately high in vitamin K include cooked rhubarb, avocados, blueberries and blackberries.
Fruits to Consume
There are several fruits that have no vitamin K that would interact with warfarin. You can eat citrus fruits and juices, including tangerines, oranges and clementines, without side effects.
Grapefruit also contains no vitamin K but is known to interact with many medications, so make sure to check for interactions with other medications you may be taking.
Other fruit options that contain very little vitamin K include watermelon, apples, pineapple and bananas, and fresh or canned cherries, pears, peaches and papayas.
Vegetables to Limit
Fruits can provide a significant amount of vitamin K, but it's also important to monitor vegetables when taking warfarin. Green, leafy vegetables are some of the best sources of vitamin K and can provide more than 200 percent of the daily value.
Consume no more than a half-cup serving each day of leafy greens like kale, spinach or collard greens. A half-cup serving of Brussels sprouts or 1 cup of lettuce and broccoli also provides a significant amount of vitamin K and should be limited to three servings or fewer each day.