A tasty bite of tomato contains more than 10 different types of acids, but two account for a large percentage of the total: citric acid and malic acid. Tomatoes also contain another essential acid, ascorbic acid, which is better known by its common name: vitamin C. All three acids have roles in protecting your health and sustaining energy.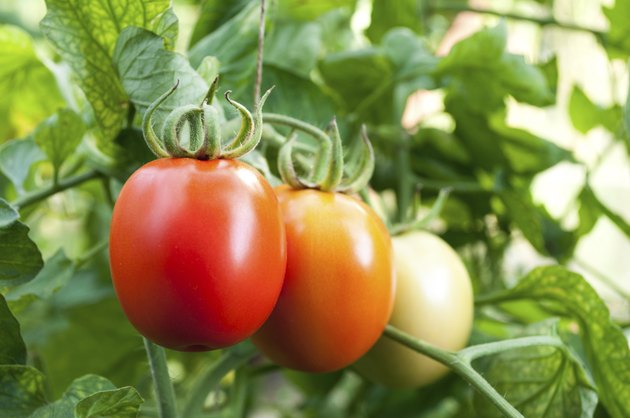 Citric Acid
The most abundant acid in tomatoes -- citric acid -- is slightly less acidic than vinegar. Your body depends on citric acid to produce energy. In fact, the process is called the citric acid cycle because citric acid begins the step-wise chemical reactions that synthesize energy. If you have a history of kidney stones, citric acid can help prevent future stones from forming. Consuming citric acid may also fight fatigue after physical exercise, according to a study in the "Journal of Clinical Biochemistry and Nutrition" in November 2007.
Malic Acid
The amount of malic acid in a tomato is half that of citric acid. Malic acid also has a role in energy production, where it's needed to complete a step in the chain reaction. A research study published in the "Journal of Endourology" in February 2014 reported that malic acid may help prevent calcium oxalate kidney stones. Preliminary research suggests it may help boost energy in people with fibromyalgia, according to studies cited by New York University Langone Medical Center. More research is needed to determine whether malic acid is an effective choice for people with kidney stones or fibromyalgia, however.
Ascorbic Acid
Tomatoes are well known as sources of vitamin C, or ascorbic acid, which is mildly acidic. Vitamin C is an important antioxidant and an immune booster. It also maintains the strength and structure of your skin, bones, muscles and connective tissues throughout your body. They're all made from collagen, which can't be synthesized unless you have a good supply of vitamin C. Adult women should consume 75 milligrams of vitamin C daily, while men need 90 milligrams. You'll get 17 milligrams from one medium-sized tomato, which is 28 percent of the daily value based on consuming 2,000 calories daily.
Taste and Health Considerations
The best-tasting tomatoes have high levels of acids and sugars. Low-acid and high-sugar tomatoes are bland, those with too much acid and not enough sugar are too tart and low levels of both create a tasteless tomato. When they're ripened on the vine, the maximum amount of sugars and acids are developed. No matter how much you love tomatoes, their acidity may trigger symptoms if you have gastroesophageal reflux disease.