Alcohol is the oldest drug still used today. People have enjoyed its various incarnations since the discovery of fermentation, and the effects alcohol has on the body have been experienced to some degree by many. Hot flashes and flushing are common but less noticeable than other effects, such as loss of motor control and slurred speech, and are often only noticed by the person experiencing them. It may seem like nothing more than an annoying side effect, but it is the outward manifestation of the changes alcohol causes in your body.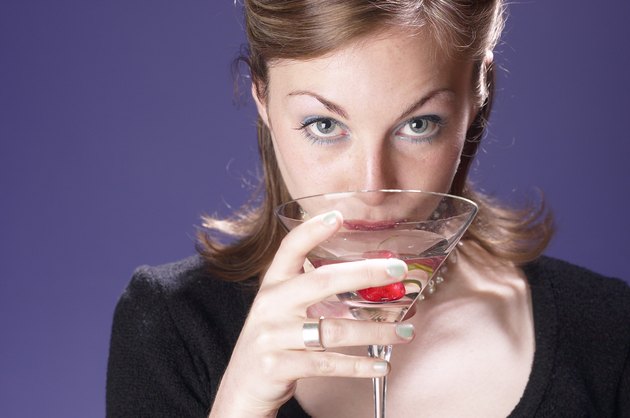 Hot Flashes
Hot flashes are most famous as a symptom of menopause, but these are caused by imbalanced hormone levels. Alcohol causes hot flashes of a different sort by affecting your brain chemistry and circulatory system. Both types of hot flashes feel the same -- a warm, possibly tingling sensation in your face and chest, accompanied by reddening of the skin and a feeling of intense heat. You may sweat profusely or just a bit, and you may find yourself chilly as the sweat cools your body.
Circulatory System
Alcohol moves through your digestive system like anything else you eat or drink. Small amounts are absorbed in the stomach, but most is absorbed from the small intestine -- this also explains why eating food delays the onset of alcohol's effects -- because food takes longer to break down, slowing the alcohol's transit through the digestive system. Once the alcohol absorbs into your blood stream through the lining of your small intestine, it immediately affects your circulatory system. Your heart rate and blood pressure increase, and your blood vessels open wide to allow more rapid blood flow. The increase in blood pressure and heart rate creates the heat of a hot flash, and the open blood vessels fill with blood and become more visible under your skin, creating the flushing.
Thermoregulation
The blood carries the alcohol to your brain, where it depresses your central nervous system and affects motor control, emotions, memory, sensation and perception, and your thinking processes. It also affects your hypothalamus, which is the region of your brain that keeps your body at a comfortable temperature. A 1981 animal study in the journal "Brain Research Bulletin" found that it's not necessarily that the alcohol causes heat, but that it disrupts the body's ability to regulate temperature. If the environment is warm, you're likely to get warmer. But if the environment is cold, you are more likely to get colder.
Cause/Prevent
Alcohol's causative relationship with hot flashes and flushing is only short term -- it only happens when the alcohol is still in your bloodstream. Long-term, though, it may have a different effect. A 2007 study in the journal "Fertility and Sterility" found that "infrequent" alcohol use may lower a woman's risk of menopause-associated hot flashes compared to women who never drink alcohol. The alcohol doesn't alter the hormones that cause the hot flashes, but researchers theorize that it may help raise the blood sugar. Higher levels of blood sugar have been associated with fewer hot flashes. Moderation is key, though -- heavy alcohol use causes problems that may complicate menopause.