Protein and carbohydrates both play a role in building muscle. Sugar, a type of dietary carbohydrate, is not bad for muscle growth and, in fact, is a beneficial component of a fitness plan designed to increase lean body mass. However, too much sugar in your diet can have negative consequences. Consult a dietitian or sports nutritionist for specific advice on constructing a well-balanced diet to optimize your muscle gains.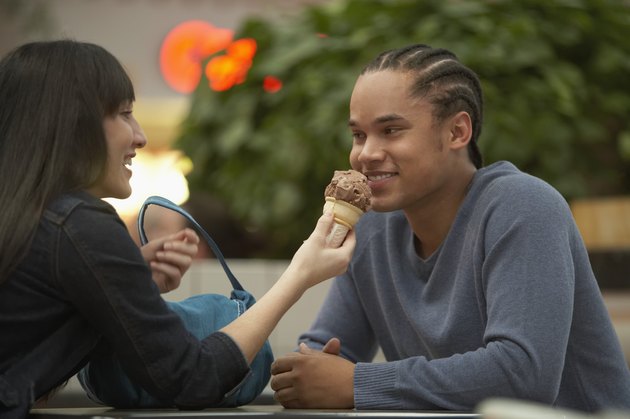 Muscle Growth
Muscle growth requires a calorie-dense, well-balanced diet in concert with a rigorous strength-training program. To adequately support gains in muscle mass, your diet needs sufficient calories to fuel your workouts and synthesize new muscle. In addition, you require enough high-quality protein to not only meet the maintenance needs of your body but also supply the building blocks necessary to create new muscle fibers. An appropriate resistance-training regimen, consisting of progressively heavier workloads, directs your body to use these nutrients to develop your muscles.
Role of Carbohydrates
Carbohydrates, both starches and sugars, are your body's preferred source of fuel. The starches you eat break down to sugars for providing energy to your cells, and the sugars you eat, because they need little to no digestion before you absorb them, travel to your cells even faster. Therefore, sugars are a ready source of energy for your muscle cells.
Fueling your muscles with dietary sugars allows you to work your muscles more intensely because of the energy they provide, and the more intensely you work your muscles, the greater your potential for muscle growth. Additionally, the process of building muscle tissue from your dietary protein as you recover from your workout requires energy. Sugar can provide fuel for the muscle-building process.
Muscle-Building Diet
Your body can use only a limited amount of protein at any given time. Therefore, exorbitant protein intakes do not translate to muscle growth. Rather, excess dietary protein either burns as fuel or converts to fat for long-term storage. A healthy diet to promote muscle growth includes moderate protein and plenty of carbohydrates.
Sports nutritionist Nancy Clark suggests that a weight gain diet include 15 percent of your calories from high-quality protein, 20 to 25 percent from healthy fats and the bulk of your diet -- 60 to 65 percent -- from carbohydrates. You can consume your dietary carbohydrates both as starch and sugars. Starch provides a long-term supply of food fuel while sugars give your muscles a quick burst of energy.
Other Considerations
Despite the benefits sugar offers to the process of muscle growth, too much in your diet may lead to unwanted weight gain. Consuming your dietary carbohydrates predominantly as sugar rather than a combination of sugar and starch may deny you other essential nutrients associated with complex carbohydrates. Whole wheat bread, for example, supplies your diet with vitamins, minerals and fiber in addition to energy, while table sugar does not.