Just like losing weight requires a reducing the number of calories you eat, gaining weight in the form of lean muscle tissue requires consuming more calories. Getting enough calories of the right types will fuel your body with the nutrients it needs to build and repair muscle tissue damaged during your workouts.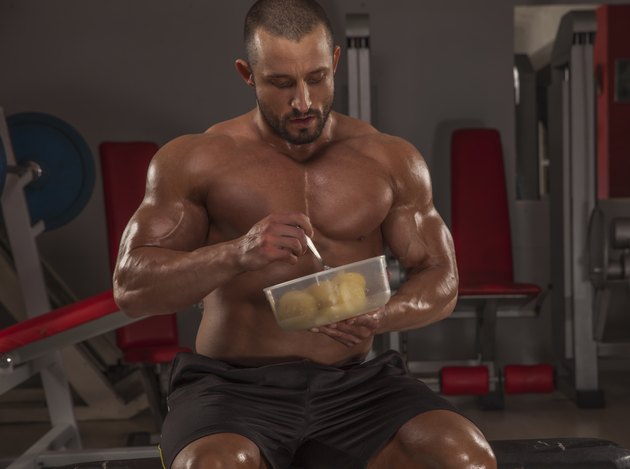 Recommended Caloric Intake
To gain a pound of muscle each week, you need to consume 2,270 to 3,630 extra calories each week, or about 500 additional calories each day. For example, a 180-pound adult male who already weight lifts each day and needs 2,800 calories to maintain his current weight would need to start eating 3,300 calories per day to gain weight.
Types of Calories
While protein may seem like the most important nutrient for bodybuilders, carbohydrates are equally important. Your muscles require adequate carbohydrates to replenish glycogen stores used for energy while lifting. Fifteen to 20 percent of you daily calories should come from protein to ensure you're getting the amino acids you need for muscle growth. Excess protein that your body doesn't use is stored as fat.
Creating a Caloric Excess
Increase the size of your three main meals each day and add a morning and afternoon snack to boost your caloric intake. Choose a variety of high-calorie and low-fat foods, such as whole grains, fruit, nuts and nut butters. Make strength training a regular part of your fitness program to keep the extra calories from being stored as fat.