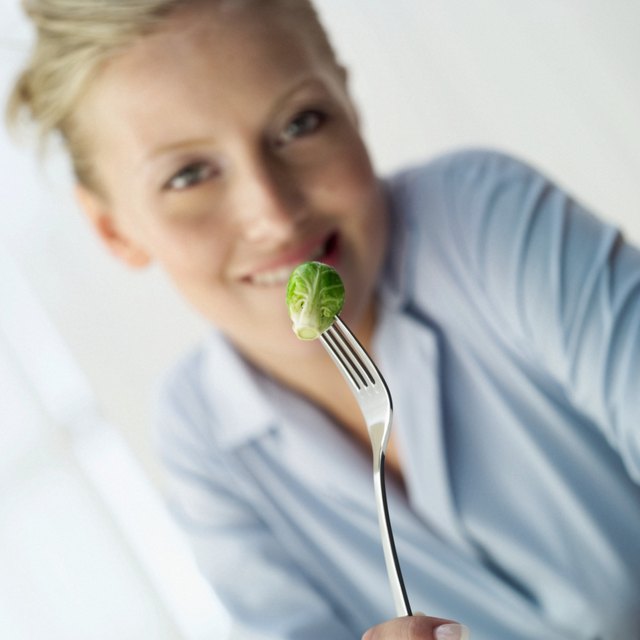 You need sufficient amounts of a number of vitamins and minerals for your blood to clot properly. Eating a variety of foods high in these nutrients may help somewhat if you bleed easily, but don't rely on food alone if you think your blood isn't clotting properly. Speak to your doctor, as you may have a serious condition that requires medication.
Foods High in Vitamin K
Vitamin K is one of the main nutrients necessary for blood clotting. In fact, it got its name from the German word for blood clotting, "koagulation," according to the Linus Pauling Institute. Foods high in vitamin K include green leafy vegetables, broccoli, scallions, Brussels sprouts and asparagus, all of which contain more than 100 percent of the daily value per cup. Other good sources of vitamin K include cabbage, prunes, okra, celery, carrots, blackberries, raspberries, mulberries and blueberries.
Food High in Calcium
Calcium isn't just good for strong bones; it also stimulates the release of an enzyme necessary for forming blood clots. Dairy products, such as yogurt, milk and cheese, are among the major calcium sources in the American diet, and dark-green leafy vegetables, okra and some types of canned and fresh fish will also help you get the recommended amount of calcium in your diet.
Foods High in Manganese
You need the trace mineral manganese to form some of the blood-clotting factors. Good sources of this mineral, which is also important for healing wounds and forming strong bones, include tea, seafood, beans, nuts, seeds, whole-wheat bread, tofu and green leafy vegetables. Wild blueberries, chocolate, maple syrup, coconut, okra and the grain teff all provide significant amounts of manganese as well.
Foods High in Copper
Not getting enough copper in your diet could cause difficulties with blood clotting. This mineral, also important for proper immune function and forming red blood cells, is found in significant amounts in seafood, beans, nuts, seeds, mushrooms, kale, avocado, dried fruit, goat cheese, quail and coconut.