A few animal studies have demonstrated a link between consumption of apple cider vinegar and lower triglycerides. The results, though promising, do not mean you should rely on apple cider vinegar to improve your cardiovascular health. However, changes in your diet and lifestyle can reduce your triglycerides, according to the American Heart Association.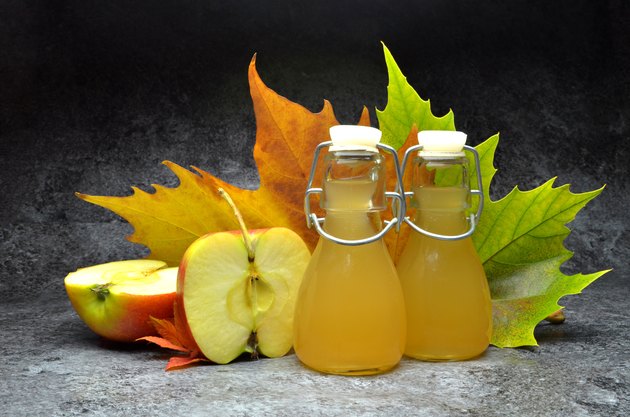 Lower Triglycerides, Higher Cholesterol
N. H. Budak and colleagues at Suleyman Demirel University in Turkey made and tested several types of cider vinegar from red delicious apples. They fed the apple cider vinegar to rats that followed high-cholesterol diets. All of the rats who drank apple cider vinegar tested lower for triglycerides. But apple cider vinegar use corresponded to elevations in their low-density lipoprotein cholesterol -– LDL or "bad" cholesterol -– and decreases in their protective high-density lipoprotein -– HDL or "good" cholesterol -- according to the report published in the June 2011 issue of the "Journal of Agricultural and Food Chemistry."
Rats With Diabetes
Another animal study found that apple cider vinegar improved triglycerides among rats with diabetes without harming other lipids. F. Shishehbor and colleagues at the University of Medical Sciences in Iran tested the effects of apple cider vinegar on normal and diabetic rats. Among the rats with diabetes, apple cider vinegar helped to reduce their triglycerides and raise their HDL levels without affecting LDL cholesterol. Rats without diabetes did not realize a reduction in their triglycerides but showed improvement in their HDL and LDL cholesterol levels after including apple cider vinegar in their diets, according to the report published in the "Pakistan Journal of Biological Sciences" in December 2008.
American Heart Association Guidelines
A triglyceride-lowering method with more proven success than ingesting apple cider vinegar includes diet and exercise. Michael Miller, director of the Center for Preventive Cardiology at the University of Maryland School of Medicine, led a review of more than 500 international triglyceride studies. Based on the review, the American Heart Association issued a scientific statement in April 2011 that said you could lower triglycerides by changing your eating habits and by exercising moderately at least 150 minutes a week. Limit saturated fat to less than 10 percent of your calorie intake, and limit added sugar to 100 calories daily for women and 150 calories for men.
Menu Ideas
If you want to follow the AHA guidelines and test the triglyceride-lowering possibilities of apple cider vinegar, try making coleslaw and baked beans with apple cider vinegar. Serve them with brown rice for a well-balanced and nearly fat-free meatless meal. Or, build a salad with spinach and romaine, topped with apple and pear slices, almonds and skinless chicken breast. Drizzle with apple cider vinegar. If you make a smoothie with apple juice, substitute a tablespoon of apple cider vinegar for the juice.