Although zinc is a mineral found in trace amounts in your body, it is involved in several life-sustaining functions. Without enough zinc in your daily diet, you could experience changes in your growth and development, immune system response, brain function and reproductive abilities. If you do not have enough zinc in your system, your physician may recommend a zinc supplement, which can cause side effects including stomach upset. Always speak with your physician if you experience harmful symptoms from zinc supplements.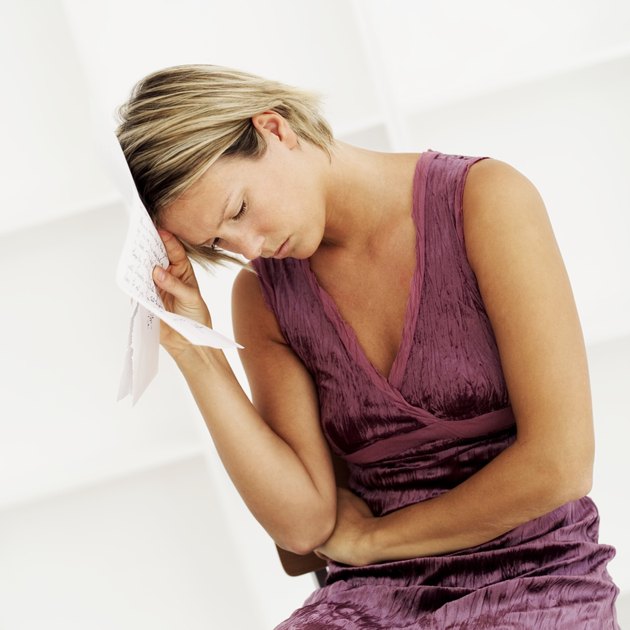 Dosages
Although it is possible to be sensitive to any dosage of zinc, higher intakes are considered to increase your risk for unpleasant symptoms. For example, supplements that have 50 to 150 mg of zinc per day are associated with mild gastrointestinal symptoms, such as upset stomach and abdominal pain, according to the Linus Pauling Institute. Higher doses of zinc, such as those between 225 and 450 mg, can cause more severe symptoms, including vomiting. Other stomach symptoms associated with taking too much zinc include diarrhea, nausea and severe abdominal pain.
Time Frame
If you do experience nausea and other gastrointestinal symptoms related to taking zinc, they typically occur within three to 10 hours of taking the supplement, according to "The New York Times." Your symptoms should cease if you discontinue taking the supplement. If they do not or if you are unsure whether you should stop taking zinc, call your physician. If you experience an immediate allergic reaction, such as rash, hives, swelling tongue or tightness in your chest, seek immediate medical treatment.
Labeling
Always read your zinc supplement labels carefully before taking them. Most supplements recommend taking zinc with or after eating food, which can help to minimize nausea symptoms. Although you can expect some mild nausea when first taking zinc because your body is adjusting to digesting larger amounts of the supplement, continuing to experience nausea with each ensuing dose is not considered normal.
Treatment
If you do experience nausea related to zinc supplementation, you may wish to consume stomach-soothing foods, such as dry toast or crackers. If you experience diarrhea or vomiting as a side effect, drinking plenty of liquids can keep you from becoming dehydrated. Your nausea symptoms will likely subside with time.