Gastritis is the medical term for inflammation of the stomach lining. Although there are many potential causes, an infection with Helicobactor pylori, the bacteria responsible for most ulcers, is the most common. Symptoms, such as indigestion, heartburn, nausea and pain, can develop suddenly or over time. In addition to treatment for underlying conditions, you may require dietary changes. Nuts suit some, but not suit all, gastritis-friendly diets. For best results, seek guidance from your doctor or dietitian.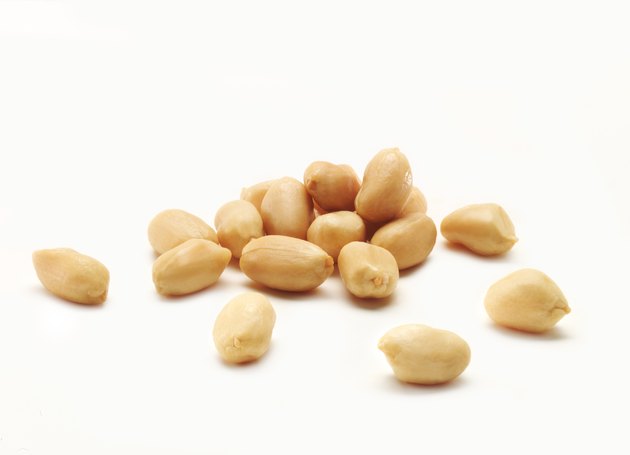 Benefits
Doctors used to recommend that people with gastritis stick to small meals containing bland foods and milk. Researchers now know that such a diet isn't necessary for ulcers or gastritis, according to the University of Maryland Medical Center. Eating more fiber and antioxidants and avoiding unhealthy fat sources, such as fatty meats, fried foods and processed snacks, however, may help prevent or minimize your symptoms. Nuts provide valuable amounts of fiber, healthy fats and antioxidants.
Risks
In some cases, gastritis causes vomiting or diarrhea. Foods rich in fat, fiber or flavor can worsen these symptoms, according to the Schiffert Health Center at Virginia Tech. And because nuts are coarse, they can increase stomach irritation associated with peptic ulcers -- a potential gastritis complication.
Suggestions
If you are not experiencing diarrhea or vomiting, incorporate nuts into a nutritious, balanced diet. Nuts particularly rich in fiber include almonds, Brazil nuts, peanuts, pecans and hazelnuts, each of which provide 2 to 3 g per ounce. After vomiting, the Schiffert Health Center recommends not eating anything for 1 to 2, hours then sipping liquids for the next 6 hours. If you tolerate liquids well at that point, you can consume low-fat starches, such as dry toast, crackers, cereal and plain baked potatoes.
Additional Helpful Foods
Additional sources of fiber and antioxidants include whole grains such as oats, barley and popcorn, vegetables such as beans, lentils, peas, and fruits such as raspberries, pears and apples. Cranberries, celery, apples, tea, garlic and onions contain flavonoids -- substances that may stop H. pylori bacteria from growing, according to the UMMC. For reduced inflammation, eat omega-3 fatty acid sources, such as walnuts, flaxseeds and coldwater fish. For improved bacterial balance in your digestive system following diarrhea, consume plain yogurt.