Although fat grams contain more than twice the number of calories as grams of protein and carbs, fats are essential components of any healthy diet -- including weight-loss plans. Some foods that contain healthy fats can even boost satiety, making it easier to control you calorie intake for effective weight loss. However, choosing unhealthy fats increases your risk for chronic diseases, such as high cholesterol and heart disease.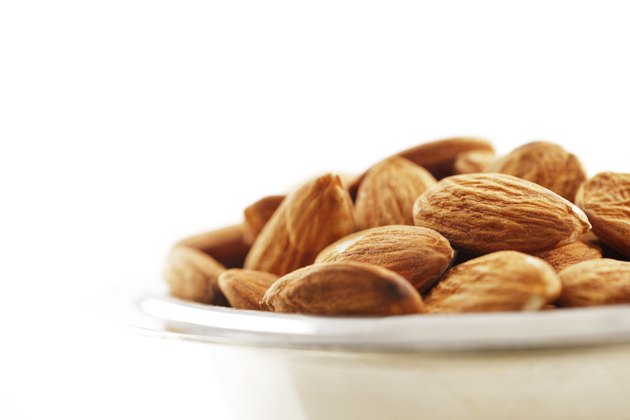 List of Healthy Fats
Eating healthy fats, in moderation, during weight loss fulfills your dietary fat needs without increasing your chronic disease risks. Examples of heart-healthy fats include plant-based oils -- such as olive, canola, walnut, soybean and flaxseed oils -- nuts, seeds, nut butters, avocados and olives. Nuts and seeds are rich in heart-healthy fats as well as fiber and protein, which increase satiety more than carbs or fat, so they are an ideal choice when you're trying to shed pounds.
Fats to Avoid
Bad fats are those that increase your chronic disease risk when consumed in excess. These include saturated animal fats -- found in butter, lard, whole milk, ice cream, cream, cheese and high-fat meats like bacon. Plant-based fats that have been hydrogenated and contain trans fat -- found in margarines, shortenings, fried foods and commercial baked goods -- also increase your risk for heart disease, so avoid them when you're trying to healthfully lose weight.
Weight-Loss Calorie Needs
The amount of healthy fats you should eat during weight loss depends on your calorie needs. Eating 500 to 1,000 fewer calories than your usual intake helps you lose 1 to 2 pounds weekly. However, women need at least 1,200 calories daily and men require a minimum of 1,500 calories per day to safely lose weight without the need for medical supervision. The USDA Dietary Guidelines for Americans recommend that fats make up 10 to 35 percent of your daily calories.
Recommended Portions
Healthy fats are grouped in the oils food group. If consuming 1,200 calories a day, the Dietary Guidelines for Americans recommend aiming for four 1-teaspoon portions of oils; if following a 1,600-calorie weight-loss plan, shoot for 5 teaspoons from the oils group daily. A 1-teaspoon portion equals 1 teaspoon of a plant-based oil, eight large olives, one-sixth of an avocado, 1.5 teaspoons of nut butter or one-third of an ounce of nuts or seeds, according to ChooseMyPlate.gov.