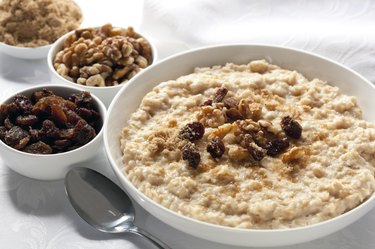 Did you know that an entire bowl of oatmeal has the caloric equivalent of a small granola bar? Even more shockingly, a piece of salmon often has fewer calories than a protein bar.
Whether you're looking to lose weight or simply get more bang for your calorie buck, nutrient-dense, whole foods provide more volume per calorie — filling your plate without causing you to pack on the pounds! Below, you'll find nutrient-dense, low-calorie foods that are perfect to add to your daily rotation.
Breakfast
While breakfast has largely lost its standing as the most important meal of the day, making healthy choices for your first meal will set you up for success. Eating a healthy breakfast each day can help control weight, maintain blood sugar levels and improve performance at work and throughout the day, according to the Mayo Clinic.
To properly fuel your day, fill your plate with complex carbohydrates, fiber, protein and a small amount of healthy fat, recommends the Mayo Clinic. These foods are low in calories but will provide you with key nutrients for a healthy start to your day:
Lunch
If your job is largely sedentary, like most people, you may experience the classic afternoon slump. Incorporate whole grains, lean proteins and some vitamin C into your meal for a boost of energy, recommends the National Sleep Foundation.
1 cup of steamed broccoli: 30 calories, 2 grams protein, 4 grams carbohydrates (2 grams fiber, 2 grams sugar), 20 mg sodium — also contains 30 mg vitamin C, which is about half of your daily recommended intake!
3 oz. salmon: 121 calories, 17 grams protein, 5 grams fat, 37 grams sodium.
1 cup cooked brown rice: 218 calories, 5 grams protein, 2 grams fat, 46 grams carbohydrates (3 grams fiber), 2 mg sodium.
1 large baked sweet potato: 162 calories, 4 grams protein, 37 grams carbohydrates (6 grams fiber, 12 grams sugar) 65 mg sodium.
1/3 of a medium avocado: 84 calories, 1 gram protein, 8 grams fat, 4 grams carbohydrates (3 grams fiber), 4 mg sodium.
Dinner
As you craft your last dish of the day, consider which nutrients you consumed and which you may be lacking. Keep in mind that you need about two to three cups of vegetables each day, according to the USDA. So, if your lunch was protein and carb heavy, incorporate some more veggies into your dinner.
Snacks
Nutrient-dense whole foods are typically high in volume and low in calories. Snacking on fruits, vegetables or other whole foods will give you the most bang for your buck, calorie-wise. Also choosing snacks filled with protein or fiber will help keep you satiated.