A 125-pound person burns an estimated 315 calories exercising vigorously on a stationary bike in 30 minutes, while a 185-pound person burns 466 calories. (Ref 1) This 30-minute ride shows you how effective cycling is -- so imagine the effectiveness of a structured cardio routine focused on cycling. While weight loss may be a difficult beast to tame, an effective cycling routine is certainly a step in the right direction.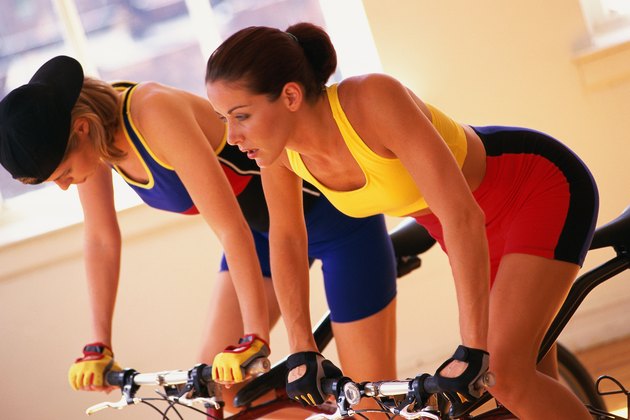 Time and Intensity
If weight loss is your goal, aim for 300 minutes of cycling per week at moderate-intensity or 150 minutes at a vigorous-intensity. While this seems like a lot of time, exercising more often speeds up your weight loss and enhances your health benefits. (Ref 2 pg 22) To determine the intensity of your training, consider using a difficulty scale of one to 10. Moderate-intensity training is rated five or six while vigorous-intensity is rated eight or nine. (Ref 2 pg 23)
Days Per Week
According to a 2011 study published by Medicine & Science in Sports & Exercise, 45-minutes of cardiovascular exercise done at high-intensity increases the metabolic rate for 14 hours. (Ref 3) The study shows subjects burned an additional 37 percent of the calories burned during exercise once they were finished working out. So, if you burn 500 calories cycling at a vigorous-intensity, you burn an additional 185 calories over the next 14 hours. Make sure you ride at least six days per week for a minimum of 45 minutes per session to ensure the best results.
Safe Weight Loss
Losing weight is a gradual process. To keep the weight off, aim for one to two pounds per week. People that lose weight at this rate are more successful at keeping it off than people using fads or extreme measures. (Ref 4 & 5) Each pound of fat has 3,500 calories, so if you want to lose two pounds per week safely, you need drop 1,000 calories per day. (Ref 4 & 5) Create this deficit by restricting calories, burning them off through exercise, or a combination of both -- which is the best option. Speak with your physician before starting your program, especially if you have special health concerns or if you haven't been on regular fitness routine.
Cycling Variety
Cycling on the upright or recumbent bike may be enjoyable but sometimes you need a change. Try an indoor cycling class a couple days per week if you need a change or work out with a friend while on a stationary bike. These changes are necessary at times; however, make sure you maintain the desired intensity during your training sessions. Having a conversation during class or while on the stationary bike may take the focus off of your intensity level, slowing your progress to weight loss.