Planks are billed as the must-do ab move if you're serious about developing a strong core. While the plank, and its numerous variations, are excellent at training your core in a functional way — assisting with stability, posture and spinal alignment — the move alone will not give you a six-pack according to the American Council on Exercise. Diet, total-body strength training and cardio exercise are also required to develop visible abs.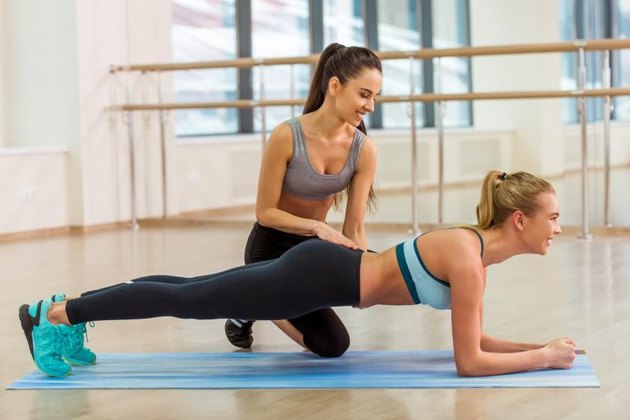 Tips
Planks by themselves won't sculpt you a terrific set of abs. Add a healthy diet and regular cardio to the mix and you'll be on your way.
Plank's Proven Benefits
When you get into the plank position as shown in ACE Fitness, your entire core engages. The move requires stabilization and muscle activation of not only the abs but also the muscles of the middle and lower back, pelvis and hips. Crunches and situps focus effort only on the rectus abdominus — the front sheath of abs — and miss many of these other crucial parts of your core.
Unlike crunches and situps, which put stress on the vertebrae as you push your back toward the mat to curl up, planks keep the back in its intended alignment. You'll also be less likely to cause stress on the neck by pulling on it to curl up as can occur with crunches. Planks are modifiable by placing your knees on the floor to provide some support for your trunk when you're first starting out.
Warning
An isometric exercise, such as the plank, isn't right for people with high blood pressure. The plank may also aggravate injury or herniation in the lumbar region of the spine.
Build on the Plank
Working up to holding a plank for 30 to 60 seconds provides you with a foundation of strength in your abs. But, holding the position for longer doesn't necessarily bring about greater benefits.
A body that's strong in plank is ready for added challenges and needs them for continued improvement in core strength and ab development. Perform plank on an unstable surface, such as a stability ball or balance disc; hold a plank with one leg lifted; perform one-armed planks; balance in a one-armed, one-legged plank; and add a side plank.
Once you've mastered plank, it serves as an exceptional warmup to make your body strong for other abdominal exercises that further develop a strong, supple core.
Plank Alone Won't Sculpt You
A strong core derived from regular planking isn't necessarily a sculpted one. If you have a layer of fat padding the muscles, your abs will never show. You need to be lean — about 6 to 9 percent body fat for a man and 16 to 19 percent for a woman, according to Len Kravitz at the University of New Mexico — to reveal developed abs.
To reduce body fat to these levels, a portion-controlled diet that emphasizes whole foods and specific ratios of carbohydrates, protein and fats must be followed. Regular cardiovascular exercise — usually 30 to 60 minutes daily — and some at a high-intensity and total-body strength training three or more times per week are other key strategies.