Apple cider vinegar is an often-sought-after home remedy for numerous conditions and ailments. However, it tastes terrible. Some choose to take apple cider vinegar tablets instead. However, there isn't conclusive evidence to indicate drinking vinegar will improve your health, let alone taking tablets. Plus, tablets can carry additional drawbacks, so be mindful of that when stocking up on supplements.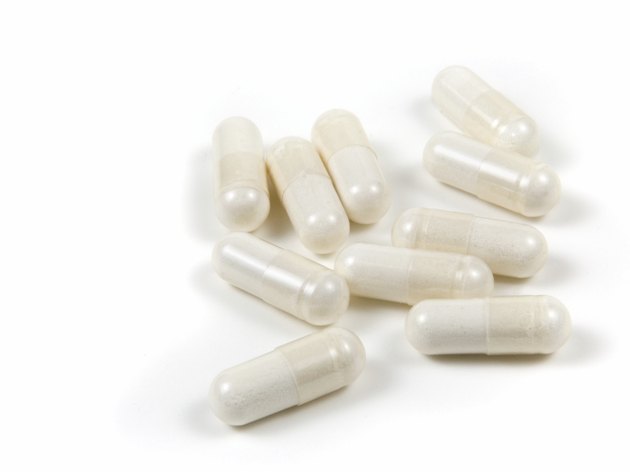 About Apple Cider Vinegar
Apple cider vinegar contains several nutrients, including potassium, calcium, copper, and iron, according to Health Services at Columbia University. It also contains pectin, a fruit fiber, and acetic acid, which is often linked to its supposed health benefits.
Ascribed Benefits
According to a review of several studies published in Medscape General Medicine by Carol S. Johnston, apple cider vinegar may provide some health benefits, primarily due to its acetic acid content. Vinegar was found to be linked to reducing blood pressure, cholesterol, and heart disease risk. Likewise, it may also help to control blood glucose levels following meals. However, these effects were observed only in very limited studies, some of which weren't even performed on humans, so the benefits of apple cider vinegar are still debatable.
Apple Cider Vinegar Tablets
According to Health Services at Columbia, apple cider vinegar pills contain the same nutrients as liquid vinegar. However, the quantity of potassium, iron, calcium, and acetic acid may vary from brand to brand.
Quality Is Not Guaranteed
Supplements like apple cider vinegar tablets aren't regulated by the FDA, so the contents aren't necessarily reflected on the packaging. They may contain more or less nutrients than stated. According to research at the University of Arkansas, some apple cider vinegar pills didn't contain any acetic acid, meaning they wouldn't provide any of the health benefits described in the Medscape General Medicine review. Though the benefits of vinegar are very much up in the air, tablets are not guaranteed to provide even the same ingredients, let alone the same benefits.