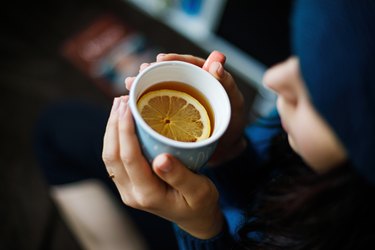 Some common blood tests require you to fast beforehand to help make sure the test results are as accurate as possible. You can typically still drink water during this period, but does tea break a fast for blood work?
If you're not sure what you can drink when fasting for blood work, you're not alone: An October 2013 study in ​Biochemia Medica​ found that more than half of 150 people who were surveyed on preparation for laboratory testing said they were not told how to fast for blood work, and nearly half of them showed up for their fasting tests inadequately prepared.
In other words, more than half of the people didn't know what it means to be in a fasted state. What's more, 46 percent of those surveyed said they thought a light breakfast of coffee, tea and rolls was considered acceptable for fasted blood work. (Spoiler: It's not, as having extra substances in your body can skew test results.)
To help you best prepare for your doctor's appointment, here's whether you can drink tea before a blood test, plus tips for how to manage your pre-test fast.
Tip
Tea does break a fast for blood work. Fortunately, these fasts are temporary — most last for between 8 and 12 hours, according to the U.S. National Library of Medicine (NLM).
Can You Drink Tea Before a Fasting Blood Test?
It's fine to drink plain water leading up to blood testing, per the NLM. And considering tea isn't far off from plain old H2O, it's fair to wonder if you can drink tea while fasting for a blood test or blood work.
But when fasting for a blood test, you can't drink tea, according to the Cleveland Clinic. That's because a cuppa may contain substances that can influence your blood and mar test results.
For instance, if you're curious if you can drink green tea before a blood test, it's best to abstain — green tea contains caffeine, which can affect your blood and hydration levels to potentially alter test results, per the Cleveland Clinic.
So can you drink herbal tea before a fasting blood test? After all, it doesn't have any caffeine. Alas, the answer is still no — even caffeine-free tea could affect a fasting blood test.
Tip
Not all blood tests have the same fasting requirements, per the NLM, so follow the instructions provided by your doctor to best prepare for your upcoming blood work.
Now you know you can't drink tea before fasting blood work.
But it's still possible to make a fast more manageable: Dana Neutze, MD, PhD, associate medical director of the Family Medicine Center at the University of North Carolina, Chapel Hill, and an assistant professor in the Department of Family Medicine, suggests trying to schedule your blood work for as early in the day as possible.
"I recommend people come in first thing in the morning so that they don't have to wait too long," she says. And staying well-hydrated may curb creeping hunger pangs, she says.
It may also be helpful to bring a snack with you to eat at your appointment, as it's typically OK to chow down as soon as the blood test is complete, according to the NLM.
And remember, fasting requirements can vary depending on the blood test, so always check with your doctor to make sure you know what to do leading up to your visit.
Tip
It's also important to avoid other beverages like juice, coffee, soda, flavored water and carbonated water before a fasting blood test, according to the NLM and Cleveland Clinic.
Common Fasting Blood Tests
Even though tea does break a fast for blood work, fasting is not necessarily a prerequisite for all blood tests. But two types of blood tests do require fasting to obtain the best results, Dr. Neutze says. According to the NLM, these are:
It's important to be fasted for a glucose test to ensure it accurately detects if your blood sugar levels are unnaturally high (whereas temporary high blood sugar after a meal is normal), per the Cleveland Clinic. "If [your blood glucose] is high after an eight-hour fast, that's an indication that there is a problem with sugar processing or that you have prediabetes or diabetes," Dr. Neutze says.
Fasting can also be important before certain triglyceride and cholesterol tests for a similar reason. "Triglyceride levels are the component of cholesterol that are most affected by fasting or not fasting," Dr. Neutze says.
Tip
Cholesterol tests don't always require fasting: "Nowadays, we can look at many aspects of cholesterol, even if you're not fasting," Dr. Neutze says. "If I have a patient whose triglyceride levels I know have been fine in the past, I'll order a non-fasting test to check other cholesterol components."
Was this article helpful?
Thank you for your feedback!