"Heat yoga" and "hot yoga" are generic terms for Bikram yoga, a 26-posture series that Bikram Choudhury introduced to the United States in the 1970s. Bikram studio operators conduct classes in rooms heated to 105 degrees Fahrenheit with 30 to 40 percent humidity. The practice is strenuous in itself, and Bikram yogis usually can expect to lose weight both in the short term due to water loss and over time as a result of calorie burn.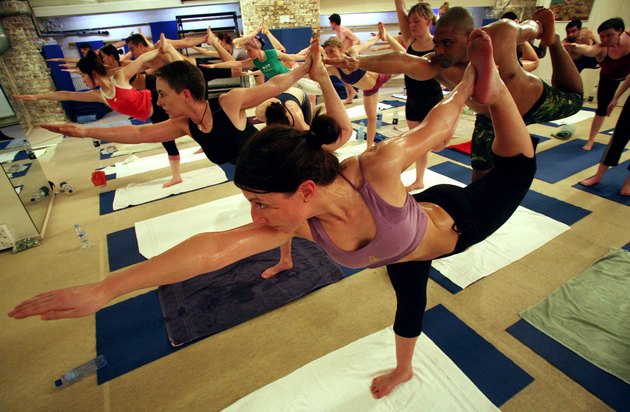 Bikram versus Hot Yoga
Bikram Choudhury copyrighted his specific sequence of yoga poses in 2002, and yoga studios that use the term "Bikram" to advertise their hot yoga classes must be licensed by Bikram headquarters and employ certified Bikram yoga instructors. As a Bikram yogi, you will practice the exact same postures and breathing exercises in every class, and certified Bikram instructors are trained to deliver their verbal instructions -- known as "the dialogue" -- with precise wording, timing and cadence. Studios that offer "hot yoga" vary the sequence to avoid copyright violation; they may add some unauthorized postures to the sequence and omit others entirely. The heat of a non-Bikram hot yoga class may also be considerably cooler than the officially sanctioned 105 degrees F.
Water Loss
Bikram yogis sweat a lot -- so much so that they require towels atop their sticky mats to keep from slipping. Bikram instructors sometimes use the term "getting juicy" to refer to the humidity and sweat factors, as well as the way hot yoga facilitates deep joint flexibility. Yogis who weigh themselves before and after a Bikram class usually notice a difference of 1 to 3 lbs., most of which represents water loss. As a result, instructors encourage students to hydrate themselves with about a quart of water two hours before class and to rehydrate generously after class to replace lost fluids.
Weight Loss
The number of calories you burn in a Bikram yoga class varies according to the intensity of your practice, but a 150-lb. person may burn up to 1,000 calories in a typical 90-minute class. Because 1 pound of body weight represents 3,500 calories, you can theoretically lose 1 lb. per week by practicing Bikram yoga four times weekly. In addition, several poses in the Bikram series -- including Rabbit, Standing Separate Leg Head to Knee and Fixed Firm -- require a chin-to-chest compression that targets the thyroid and parathyroid glands. According to Bikram theory, the compression stimulates and regulates your metabolic rate, supporting weight loss if that's your goal.
Considerations
To facilitate weight loss by performing hot yoga, pay attention to your diet and take care not to consume extra calories to compensate for your physical exertion. Don't eat a meal less than three hours before class because in addition to causing potential digestive discomfort and hindering your ability to get into the postures, the demands of a full belly divert blood flow from the rest of your body, diminishing your performance potential. If you must have a snack before class, choose something light and easy to digest such as fruit, a few nuts or whole-grain bread or crackers.