With the Institute of Medicine recommending 46 to 56 grams of protein for adult women and men each day, you might wonder how best to use your protein allotment when planning your meals. Protein is in a wide variety of foods, including plant-based and animal-based foods. Two popular choices are chicken and fish. The better protein for you depends on your nutritional needs, as well as factors like the cost per pound and your food budget.
Protein Amounts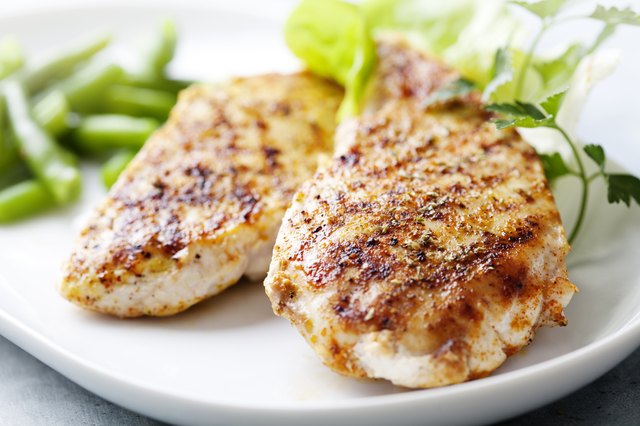 Chicken and fish are both good sources of protein, with similar amounts of the nutrient in a 3-ounce serving. Three ounces of light meat chicken, without the skin, has about 27 grams of protein, while 3 ounces of dark meat, skinless, contains about 24 grams. Various types of fish offer differing amounts of protein. These amounts range from a low of about 13 grams per 3 ounces of Atlantic herring to highs of 23 grams in sockeye salmon and 25 grams in yellowfin tuna. You can meet your daily protein requirement in two servings of either fish or chicken.
Satiety and Amino Acid Profiles Study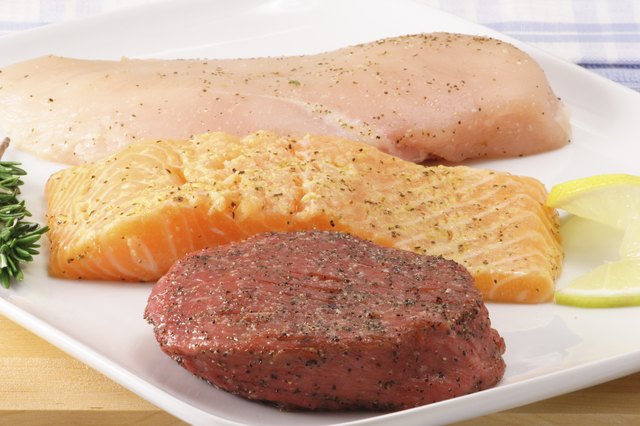 In a study published in 1991 in the "Journal of Nutrition," six lean males ate three morning meals after an overnight fast. Each had 50 grams of lean protein consisting of beef, chicken or fish. One blood sample was taken before each meal, then eight additional samples were taken at various times up to three hours after eating. Researchers tested the blood samples for glucose and insulin, and for amino acid and triglycerides. Participants were also asked to rate how full they felt immediately after the meal, and again every 30 minutes for three hours, based on a seven-point scale ranging from very hungry to very full.
Study Results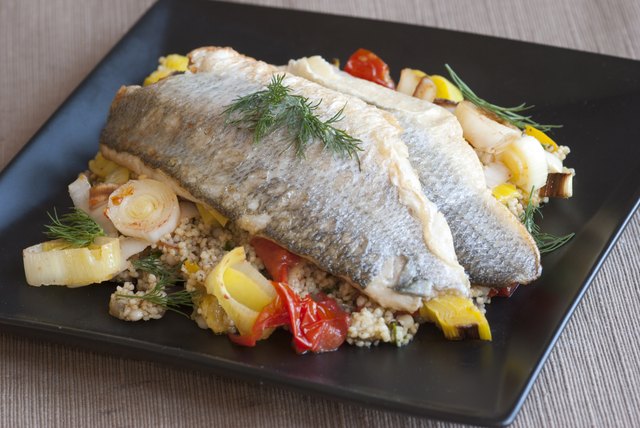 The study result favored fish as a superior protein in most cases. The participants felt noticeably more full after eating fish as opposed to chicken, rating fish one point or more higher at every 30 minute rating. The tryptophan to large neutral amino acid ratio, an indicator of fullness, was higher in the blood after the fish meal than after the chicken. Amino acid profiles in the blood were similar after each meal in the cases of most amino acids. In some cases, as with taurine and methionine, the levels of amino acids were significantly higher after the fish than the other proteins. This difference did not favor either beef or chicken with any other amino acids.
Omega-3 and Omega-6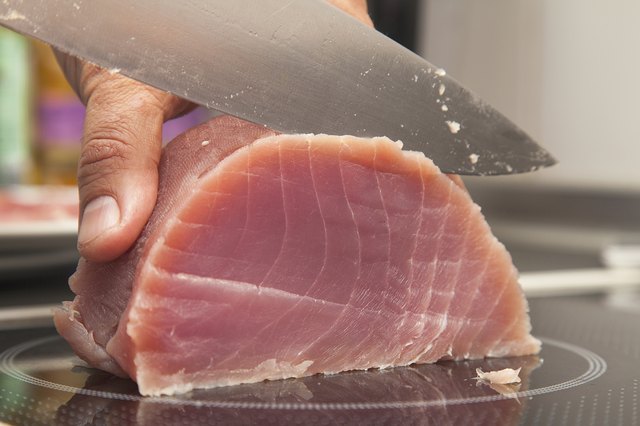 Fatty fish, such as salmon and tuna, contain omega-3 and omega-6 fatty acids. The body cannot make these essential nutrients, so you must obtain them through your diet. These fatty acids help with brain growth and development, hair growth, bone health and regulating metabolism and the reproductive system. The general recommendation is a balance of omega-3 and omega-6. Meats such as poultry contain mostly omega-6, and Americans get more than enough, says the University of Maryland Medical Center. Fish, on the other hand, is a good source of omega-3.