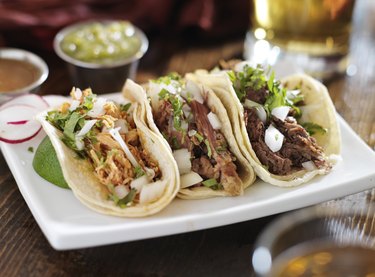 Some adults simply don't like certain foods, while others are so averse to eating new things that they are considered to have a condition called selective eating disorder. Most picky eaters will simple refuse to eat new foods, so you must be flexible when cooking for these people. Combine a variety of fruits and vegetables with the foods the picky folks like so everyone can enjoy the meal.
Potatoes
Many picky eaters gravitate toward bland foods, so potato dishes will be a hit. Sneak some healthier vegetables into the meal by mashing cooked cauliflower and mixing it into a bowl of mashed potatoes. When everything's mixed together, the picky eater may not even realize he's eating vegetables. If he likes to eat French fries at every meal, make them healthier by slicing up sweet potatoes. Sprinkle them with olive oil and salt and bake them until they're crispy.
Tacos and Fajitas
Tacos and fajitas are ideal when you're serving a crowd of picky eaters, since everyone can pick and choose the ingredients they want to eat. Start with whole-wheat tortillas, which contain more fiber than plain white tortillas. Saute lean chicken and cut the pieces into slices. Serve low-fat refried beans for protein, saute some peppers and onions and set out bowls of chopped lettuce and tomato and a small bowl of low-fat shredded cheese.
Soup
You can hide vegetables and healthy protein in a big bowl of soup. Picky eaters may pick chunks of vegetables out of their food, but blended soups make this impossible. Make broccoli soup and use a hand blender to eliminate any chunks of broccoli. Scatter a handful of shredded cheddar on top of the pot. Tomato soup is another creamy soup that can be made healthfully. Blend roasted red peppers into the soup and use a base of low-fat milk thickened with flour rather than cream. If your picky eater doesn't mind chunks of vegetables, make a batch of minestrone soup topped with shaved Parmesan cheese.
Pasta
Bland noodles will be a hit with many picky eaters, and with the variety of whole-wheat pastas available today, you can conveniently make a healthy meal that everyone will love. To make a healthy version of spaghetti and meatballs, blend diced red peppers and zucchini into turkey meatball mix to add extra nutrients to the protein. Jarred sauce is packed with sugar, so make your own by sauteing diced tomatoes and a little tomato paste with olive oil, garlic and onion. If your picky eater is willing to try pesto, try blending cooked broccoli into the sauce to give it an extra boost of vegetables.