If you're looking for an exercise that packs a lot of punch in a short amount of time, you might want to find a pool near you right away. Swimming can help you lose weight -- provided you don't start piling on the high-calorie foods to make up for the calories you'll be burning. It's also an excellent way to tone all of your muscles, including your legs, arms, back, shoulders, chest and abdomen.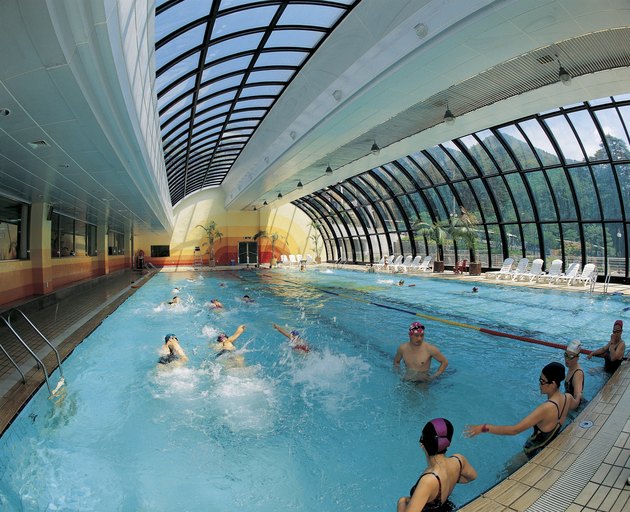 A Big Calorie Burner
The trick to losing weight is creating a calorie deficit, and swimming is high on the list of big calorie burners. The number you'll burn during a single session can depend on your intensity level, your age and your weight, but there are some averages to keep in mind. If you weigh 155 pounds and you swim the butterfly or the crawl for 30 minutes, you will burn about 409 calories, according to Harvard Medical School. If you weigh 185 pounds, that number jumps to 488 calories for a 30-minute session. That's about the same as you'd burn if you ran at a moderately vigorous pace of 6.7 miles per hour -- and more than you'd burn during other notoriously vigorous exercises such as jumping rope, doing martial arts or attending a high-impact aerobics class.
A Form of Strength Training
When you burn calories and lose fat, the result will be a slimmer body that will appear more toned because losing that fat means the muscles you already have will be more visible. Swimming packs a one-two punch because it's not only a big calorie burner, but also a form of resistance exercise. Water offers 12 times as much resistance as moving your limbs through the air -- meaning those laps you're doing are a form of strength training as well.
More Toning Tricks
If you stick to a steady routine of swimming for 30 minutes at a time, three to five days a week, and don't overeat, expect to slim down and build muscle. However, you can get toned even faster by getting more strategic about your time in the pool. Variety is key to preventing the muscle adaptations that lead to exercise plateaus. Mix up your workouts every few weeks, or even every time you are in the pool. Instead of doing the crawl or breaststroke all the time, incorporate new strokes such as the side stroke, backstroke or butterfly. Use a kickboard to place special focus on the legs one day, and then use a pull buoy during the next session to focus on the arms. Also try simply treading water.
Overall Health Benefits
Swimming -- and all water-based exercise -- offers people with joint pain a way to get in a beneficial workout with less pain. Likewise, you don't have to worry about falling while you're in the pool, something which could derail your efforts to exercise all together. Swimming also improves your lung capacity, which can make your breathing more efficient, and thus help you move easier and burn more calories throughout the day. And as with any exercise, swimming regularly can help elevate your moods, help you sleep better and offer a little bit of quiet relaxation in your busy days.