Iron combines with protein to make hemoglobin, the red component of blood that carries oxygen to body cells. It also helps cells use oxygen, prevents nutritional anemia and increases resistance to infection. Dietary sources of iron come in two forms: Heme iron is found in animal foods such as meat, fish and poultry, while nonheme iron comes from plant sources including beans, legumes, nuts, fortified grains and soy products.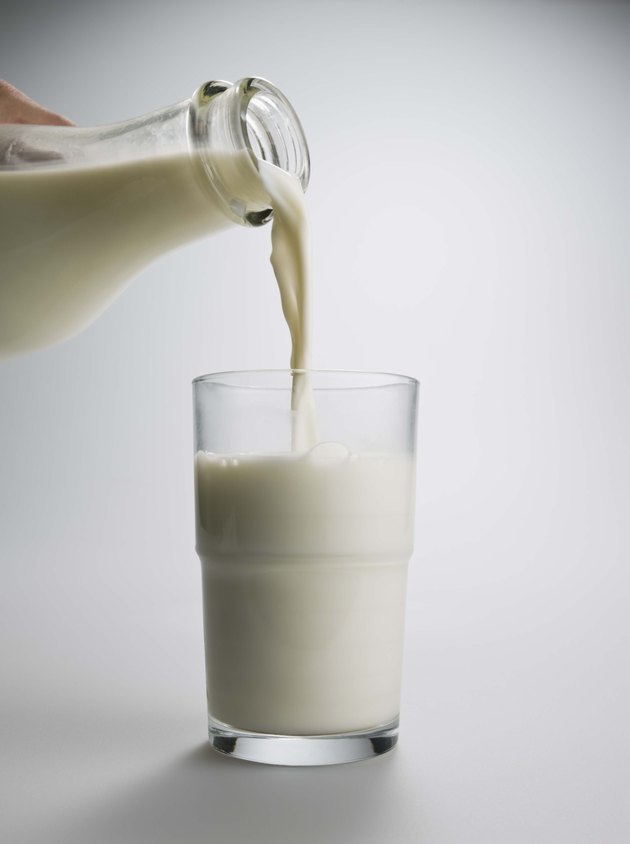 Decreased Iron Absorption
Drinking milk or including other calcium-rich products, such as cheese and yogurt, with meals decreases the absorption of nonheme iron. Tannins, found in tea, and polyphenols and phytates, found in legumes and whole grains, have the same effect on nonheme iron absorption. Vegetarians are more at risk for iron deficiency since they consume only nonheme iron.
Increasing Iron Absorption
Heme iron is more readily absorbed by the body than nonheme iron. Include a range of both heme and nonheme iron sources daily to meet your iron needs. Including a vitamin C-rich food, like an orange, at meals helps the body utilize iron more efficiently. Make adjustments in your daily meal plan to account for foods and beverages that might inhibit or increase iron absorption.
Risks
Symptoms of iron deficiency, known as anemia, include fatigue, decreased work performance, colder body temperature and increased frequency of illness. If you are concerned that you might be suffering from iron deficiency, ask your doctor to perform a lab test. If you have been diagnosed with anemia, follow the recommendations above to maximize iron absorption from your diet. Your doctor might recommend taking an iron supplement.
Benefits
The benefits of consuming milk with meals might outweigh the risks. According to the 2010 Dietary Guidelines, calcium and vitamin D, both found primarily in dairy products, were identified as "nutrients of concern" in the American population. The recommendations state that most adults should consume at least three servings of dairy products daily. If you have low levels of iron, consume dairy products and calcium supplements separate from meals to prevent other nutrient deficiencies.