Jumping rope and running are both aerobic activities, benefiting your heart and lungs, exercising your large muscles and building endurance. Over time, both activities improve your cardiovascular functioning by making you breathe harder, causing your heart to beat faster. Eventually, your heart and lungs become stronger and more efficient. Jumping rope can replace running if you keep a few considerations in mind.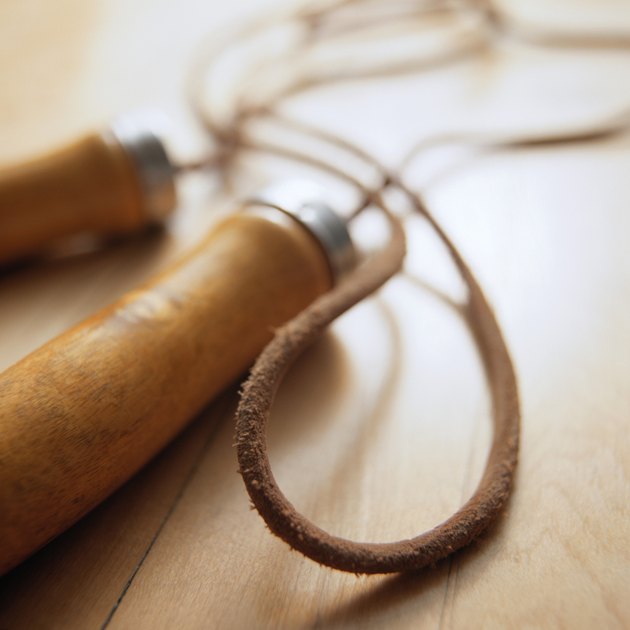 Calories
Your body requires calories to function, even if you stay in bed all day. The more active you are, the more calories your body requires to maintain your body weight. You put calories into your body by eating and you expend calories by any activity, including jumping rope and running. The more rigorous an activity, the more calories it expends. According to the Centers for Disease Control and Prevention, jumping rope and running are comparable activities for burning calories, depending on how hard you work.
Intensity
Burn calories consistently by keeping up the pace when you work out. If you want consistent results, your body has to perform at a consistent level. Balance activities to create equal intensity. Jumping rope for 15 minutes, for example, provides a comparable workout to running 1.5 miles in 15 minutes, at a speed of 10 minutes per mile.
Aerobic Benefits
Jogging and running have similar cardiovascular benefits, according to the Yale Medical Group. Both increase your flexibility, and improve your balance, rhythm and timing. For a 130-pound person, a one-hour workout consisting of running six miles per hour at a pace of a 10-minute mile is comparable to jumping rope at a moderate pace for one hour.
Benefits of Jumping Rope
Jumping rope provides an aerobic workout, but it also has an added benefit over running in that it increases hand-eye coordination. Some people find jumping rope more stimulating a workout than running because you can learn fancy patterns and leg routines that add excitement. It's a matter of personal preference as to which workout you find more fun, although the variety of patterns used when jumping rope gives it a novelty that is not as easily attained when running.
Benefits of Running
Running involves forward propulsion that uses your lower body muscles differently from jumping rope. You'll find that, over an extended period of time, running will develop and strengthen the muscles that are used for the forward acceleration of your core body, such as your quadriceps and plantarflexors. If you choose to do this activity outside, running has the added benefit of moving you a distance over time and being more scenic than jumping rope.
Cost and Convenience
Jumping rope and running are comparable in terms of cost and convenience. Both sports can be completed almost anytime, anywhere, without having to go to a gym. Both require good-quality athletic shoes. Running requires running shoes, as they provide cushioned heels and firm support. Court shoes are recommended for jumping rope, as they are padded in the front half of the shoe, which is where most of the pressure is placed during this activity. Jumping rope requires a rope of good quality, but this accessory is inexpensive.