Both oatmeal and Cream of Wheat can be part of a comforting warm breakfast, but when choosing a breakfast during a weight-loss diet, you'll want something that is both low in calories and filling. These cereals are both low in calories, but oatmeal is likely to be more filling so you'll eat less later in the day, making it the better breakfast option for losing weight.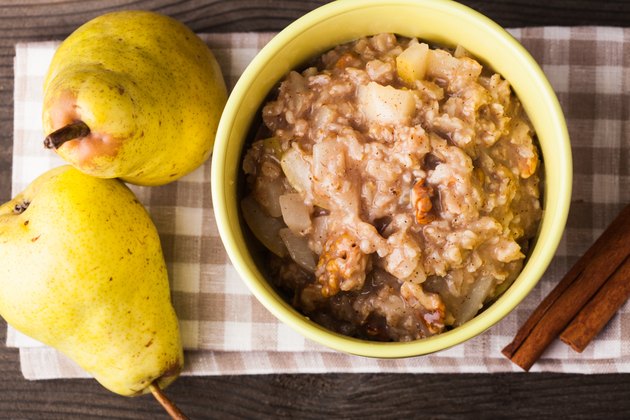 Calorie and Micronutrient Content
A 1-cup serving of oatmeal made with water provides you with 166 calories, along with more than 10 percent of the daily value for the essential nutrients iron, selenium, magnesium, manganese, zinc, phosphorus and thiamin. The same amount of Cream of Wheat made with water contains 126 calories, but it isn't as nutrient dense, as it only contains more than 10 percent of the DV for calcium, iron and selenium. While Cream of Wheat is a bit lower in calories, you'll have an easier time meeting your nutrient needs while staying within the reduced amount of calories you need to lose weight if you opt for the oatmeal.
Filling Fiber
Since fiber slows the emptying of the stomach and adds bulk to your food without adding calories, foods that are high in fiber may help with weight loss. A study published in "The Journal of Nutrition" in March 2009 found that the more fiber women ate, the less weight they gained during the 20-month study period. Each serving of oatmeal provides 4 grams of fiber, or 16 percent of the DV, while Cream of Wheat only contains 1.3 grams, or 5 percent of the DV, in each serving. The type of fiber in oatmeal, beta-glucan, may be particularly beneficial for appetite control and weight loss, according to a study published in the "Journal of the American College of Nutrition" in 2013.
Protein Potential
Another factor that affects how filling a food will be is its protein content. Like fiber, foods with more protein tend to be more filling, helping you stick within your recommended calories for weight loss. Eating a cup of oatmeal will provide you with 5.9 grams of protein, which is a bit more than the 3.6 grams in each cup of Cream of Wheat, making oatmeal the better choice for weight loss.
Completing Your Meal
The small amount of calories in oatmeal or Cream of Wheat alone isn't really enough for breakfast, and cereal alone isn't a well-balanced breakfast, so you'll need to eat other foods as well to complete your meal. A glass of low-fat milk and a piece of fruit can help you round out your breakfast without adding too many calories. Another option for completing your breakfast and adding some healthy unsaturated fat to your meal is mixing a spoonful of peanut butter into your oatmeal along with a chopped apple or sliced banana.