One pound of body fat is made of 3,500 calories, so eliminating 3,500 calories results in one pound of lost weight. Exercise is useful because it burns calories, but it isn't necessary; neither are diet pills. Just cut calories from your diet to lose weight. To lose 20 pounds with only dietary changes, cut out 70,000 calories from what you currently eat. That probably sounds intimidating, but aim to cut 500 to 1,000 calories per day for weight loss of one to two pounds per week and four to eight pounds per month.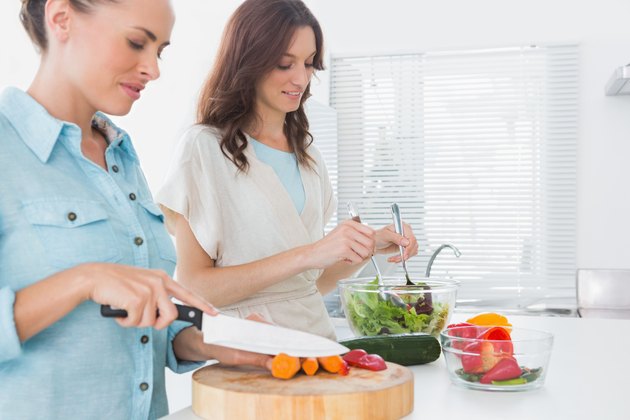 Step 1
Focus on eating fresh produce, whole grains, lean protein, low-fat dairy and small amounts of healthy fats. Eat lower-calorie foods that are rich in fiber, protein and/or water to help you fill up and stay full longer.
Step 2
Drink water, tea and and other no-calorie beverages in place of fruit juice, soda, beer, wine and other beverages that provide extra calories. Depending on your habits, this change alone can cut a few hundred calories a day. Have a glass or two of water 20 minutes before meals to fill up and eat less.
Step 3
Serve meals on smaller plates and in smaller bowls. You take less and don't feel as deprived as you would with a lot of empty space on the dish. Reduce all your typical portion sizes by just a quarter, and you eliminate a quarter of your daily calories.
Step 4
Eat slower to eat less. It takes about 20 minutes for your body to sense that its hunger has been satisfied, notes Joanne Larsen of Ask the Dietitian. Avoid distractions, such as television or the Internet, while eating, so that you pay more attention to your body's signal that it's had enough food.
Step 5
Skip the junk food. The empty calories do you no good, and can easily be replaced with fewer, nutrient-dense calories from healthy snacks, such as fruits or vegetables and a low-calorie dip.
Tip
Track your calorie consumption. Read the nutrition data labels on food so that you know how many calories are in each serving. Measure out your servings.